4-H Youth Virtual Fishing Derby
June 11, 2021 - June 13, 2021
Registration Deadline: June 13, 2021 - 12:00PM
---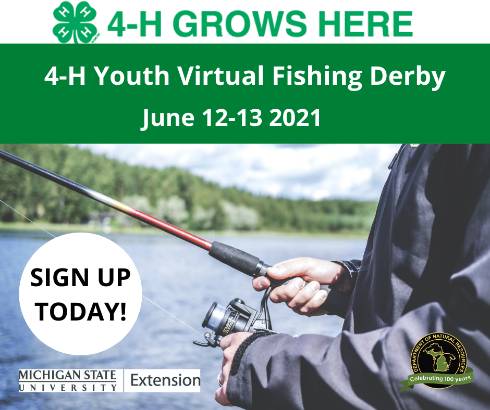 REGISTRATION IS OPEN!
Welcome to the 4-H Youth Virtual Fishing Derby!
Michigan 4-H is proud to partner with the Michigan Department of Natural Resources to offer a state-wide virtual fishing derby on Free Fishing Weekend June 12-13 2021 for youth ages 5-19. Youth do not need to be 4-H members to participate.
Youth will be able head out fishing at any lake, pond, river, and stream and submit photos of the fish they catch for the derby!
Youth will also be to complete virtual fishing challenges (trivia, fishing skills, etc...) and submit entries through the Goosechase app and will be awarded points for each mission that is completed. Top participants will be eligible for prizes or certificates.
What is a 4-H Youth Virtual Fishing Derby?
A virtual fishing derby is an organized event where participants actively fish and participate in other fishing related activities. Fishing derbies are a great way to introduce youth to basic fishing skills, build confidence, and have fun! Participants will have an opportunity to take photos or videos of their fishing adventures and submit for prizes through the Goosechase App. (See info below)
ABOUT THE 4-H YOUTH VIRTUAL FISHING DERBY
WHEN:
The 4-H youth virtual fishing derby will take place June 12-13. The event will coincide with the Michigan Department of Natural Resources Free Fishing Weekend.
The virtual fishing derby challenges will open on the Goosechase App on June 11.
COST:
There is NO cost to register for the youth fishing derby.
ELIGIBILITY:
Open to all youth ages 5-19. Youth do not need to be a 4-H member to participate.
PRIZES:
Top participants who participate in the virtual derby through the Goosechase App will be eligible for prizes. To be eligible for prizes, you MUST add the individual or team name you will use in Goosechase when you register for the event. (Remember to use the same name when you login on the Goosechase app!)
Example:
When I register for the fishing derby, I chose a team name of "Fish On123" that I will use in the Goosechase App. During the virtual fishing derby, when I log into the Goosechase App, I will use the "Fish On123" as my username during the fishing derby.
FREE FISHING WEEKEND:
During free fishing weekend, all fishing license fees will be waived. A Recreation Passport will not be required for entry into state parks and boating access sites during Free Fishing Weekend. Residents and out-of-state visitors may enjoy fishing on both inland and Great Lakes' waters for all species of fish. All fishing regulations will still apply.
RESOURCES:
Questions contact Stacie Gath at gathstac@msu.edu, John Duvall at duvallj2@msu.edu, or Chris Thompson at thom1377@msu.edu or call 989-907-6500.
Registration for this event has closed.
---