Adulting 101 Fall 2022
October 3, 2022 - October 24, 2022 Webinars are offered on Mondays, October 3-24 from 6-7 pm Eastern Time
Registration Deadline: October 23, 2022 - 11:45PM
---
Contact: Beth Martinez: Mart1751@msu.edu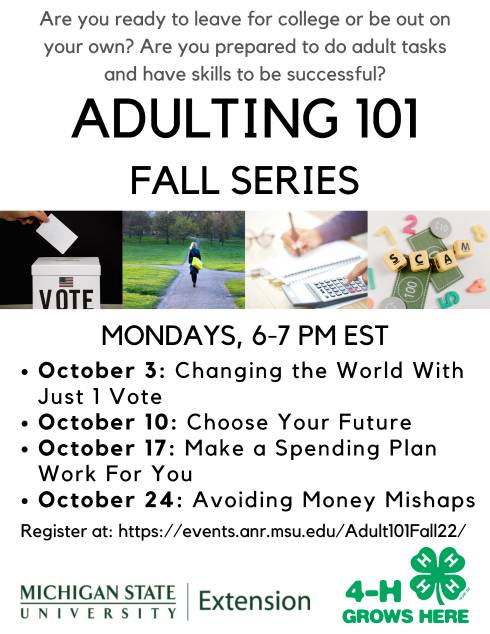 Are you ready to leave for college or be out on your own? Are you prepared to do adult tasks and have skills to be successful? Michigan State University Extension's FREE Adulting 101 programs help teenagers and young adults demystify the obscure reality of being an "adult" through engaging educational sessions. Each FREE session is packed full of important life skills and tools necessary to live independently.

Join us!
Every Monday
October 3-24, 2022
6-7 p.m. Eastern Time
October 3: Changing the World with just 1 Vote
Learn how to change your community by engaging in the political system.

October 10: Choose Your Future
Are you still unsure what career to pursue after school? Join us as we explore tools and reflect on how to choose a career path that is compatible with your interests, skills and personality.

October 17: Make a Spending Plan Work for You
Discuss the benefits of a spending plan, identify the difference between needs and wants and highlight the importance of an emergency fund.

October 24: Avoiding Money Mishaps
Be aware before you share your personal and financial information: Protect yourself and your money from fraud, predatory lenders, scammers and identity thieves.
When you register below, a zoom link will be shared one week prior to the first class.
Follow us on Facebook, Instagram and Twitter to stay informed of upcoming events to help you better prepare for your future or search 4HCareers on social media.
---