Adulting 101-Informed Renter
July 26, 2022 1:00PM - 2:00PM Sessions are offered every Tuesday from 1-2 pm EST, July 12-August 2, 2022
Registration Deadline: July 25, 2022 - 11:45PM
Online
---
Contact: Ellie Baden, badenely@msu.edu or Katherine Jamieson, jamies13@msu.edu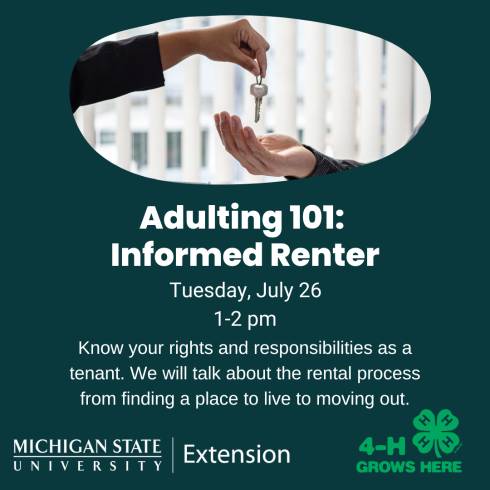 Are you ready to leave for college or be out on your own? Are you prepared to do adult tasks and have skills to be successful? Michigan State University Extension's FREE Adulting 101 programs help teenagers and young adults demystify the obscure reality of being an "adult" through engaging educational sessions. Each session is packed full of important life skills and tools necessary to live independently.
Join us on Zoom!
July 26, 2022
1-2 p.m. EST
July 26: Informed Renter
Know your rights and responsibilities as a tenant. We will talk about the rental process from finding a place to live to moving out.
A Zoom link will be sent out prior to the event.
Registration for this event has closed.
---