Beepalooza: Southeastern Michigan Beekeepers Association's 87th Annual Bee Conference
May 22, 2022 8:30AM - 4:00PM
MSU Tollgate Farm and Education Center, 28115 Meadowbrook Rd, Novi, MI 48377
---
Contact: Ana Heck

Join us for an exciting in-person conference hosted by the Southeastern Michigan Beekeepers Association (SEMBA) at Michigan State University's Tollgate Farm and Education Center in Novi, MI. This will be the first conference hosted by SEMBA in two years and will include speaker sessions at multiple locations on site, including hands on experience classes. In addition, we will have vendors on site (list to be updated soon!) and food trucks in case you need a bite to eat.
There will be seven tracks of classes that will be held at various locations at Tollgate (map to be provided soon!) for beginner to advanced beekeepers. Michigan State University will hold in-hive workshops on colony health inspections and hygienic testing.
New for SEMBA will be special small sessions that include mead tasting, candle making, and honey tasting. In addition, we will be offering live demonstrations in the bee yard such as hive inspections, mite sampling and queen rearing techniques. These demonstrations are split into three tracks, one each for beginners, intermediate and advanced beekeepers. These classes will be limited in space so register soon! Once the limits are met for the classes we will remove them from the event registration. Be sure to bring your veil and jacket if you register for the bee yard demonstrations.
In addition, there will be some fun silent auctions as well as raffles featuring fun bee themed gifts!
Accessibility accommodations
Michigan State University is committed to providing equal opportunity for participation in all programs, services and activities. Accommodations for persons with disabilities may be requested by contacting Ana Heck two weeks prior to the start of the event. Requests received after this date will be honored whenever possible.
Get Directions
Related People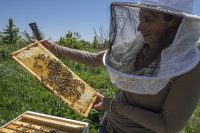 Meghan Milbrath
milbrat2@msu.edu
---