Beginning Farmer Educational Sessions-Great Lakes Fruit and Vegetable Expo
December 8, 2020 - December 10, 2020 These time are for the entire GLEXPO program. Review the program to see times of specific sessions.
---
Contact: Vicki Morrone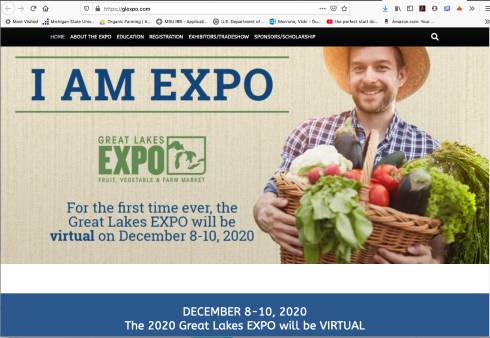 Beginning Farmer Sessions Now Offered at 2020 Great Lake Fruit an E=Vegetable Expo!

What are you doing on December 8th, 9th, and 10th? Why not hear, firsthand from beginning farmers and how they are managing their farm and market? Then, following we have 3 great educational topics, of specific interest to beginning farmers. This is the first time that the Great Lakes Fruit and Vegetable Expo is offering this session. Due to the need for health and safety, the programs and networking will l be offered in a virtual format. But that means no driving in the snow and ice!!
Schedule
This program will be held on Tuesday, Wednesday, and Thursday, December 8, 9, and 10. Sessions will be offered thru extended hours (into the evening) to allow attendees greater access and less overlap with sessions.
Register NOW
Registration is now open and there is no deadline or late registration fee. Cost is $40 per person that includes all the Educational Sessions and the Virtual Trade Show. A reduced rate is offered for students is $25. To register go to: https://glexpo.vfairs.com/en/registration If this registration fee is a hardship please email Vicki Morrone (sorrone@msu.edu) for possible fee discount.
Session 1 Beginning Farmer Panel - December 8 from 7:00 -9:00 pm
Are you a beginning farmer seeking information on production and tips from other farmers? Please join us for the Beginning Farmers Session, new to the GLEXPO Program! Two sessions are dedicated to beginning farmers in the GLEXPO program. We hope you will join us. On Tuesday, , three beginning farmers will share their stories of how they gained needed skills to farm and what they are doing to grow their businesses. The farmers will then lead a discussion and answer questions about their experiences and recommendations to get started as a farmer. All present are invited and encouraged to participate, with the confidence that we will get to know one another and help each other grow. On Wednesday, December 9 from 7-8:30 p.m. we will offer a second session, Beginning Farmers 2 that will include 3 educational presentations targeted to particular needs for beginning vegetable farmers; topics include soil health, vegetable variety selection and engaging in the EQIP program to improve your farming.
A Bit about the Panel Presenters
In session 1, on Tuesday evening, three farmers will each share their stories of how they got started farming and how they continue to grow and sell to markets, each with a unique story:
Iythiyel Zurishaddai is employed by DBCFSN at D-Town Farm which is located in the city of Detroit. D-Town Farm. They produce upwards of 30 different crops and utilize large-scale composting, rainwater retention tanks, solar energy generation and bee keeping to create a more sustainable farm. Visit https://www.dbcfsn.org/ to learn more about this organization that offers experiential learning and educational programs. Iythiyel will share his story, how he has acquired the essential farming skills and his plans going forward. He works as part of the D-Town staff combating food apartide in Detroit through the cultivation and distribution of high quality, nutritionally dense food produced via ecologically sound practices.
Mikayla Rowden, owner of Stillwind Farm in Muskegon, Michigan, grows herbs and vegetables for local sales. She grows using no-till methods on her ¼ acre urban farm site, and proudly building healthy soil. Stillwind is in the process of becoming Certified Naturally Grown, alongside a multitude of other plans as 2021 will be their first full season! To visit her site go to https://stillwindfarm.square.site/.
Carole Caplan-Sosin, owner of The Farm on Jennings in Ann Arbor, Michigan, follows permaculture and organic practices to grow herbs, flowers and seasonal vegetables. Her vision is to provide her customers with product and experiences that "nourish your local life". The farm is Certified Naturally Grown through a program that certifies farms using minimal organic pesticides, non-GMO seed, and healthy use of inputs for the soil and crops. You can learn more about her farm at http://www.thefarmonjennings.com/.
Session 2 Beginning Farmer Educational Presentations-Wednesday 7 pm - 9:000 PM
This portion of the session will feature three professionals speaking on key topics critical to successful farming. First, Dr. Julie Grossman from University of Minnesota will share The virtues of cover crops to support soil and crop health. Growing cover crops is a key practice to improve soil, as it offers multiple benefits; for soil, beneficial insects, and provides a crop rotation. Learn about how to grow cover crops and approaches to get the most bang for your buck. Following, Dr. Ron Goldy, with Michigan State University Extension will present information about selecting the best vegetable varieties to grow, based on the farm's conditions and your markets, entitled Choosing robust varieties to meet your farming and market needs. Beginning farmers often seek financial assistance and the US Farm Bill offers a program called EQIP (Environmental Quality Incentive Program) that does just that. Our third presenter will be Jen Silveri will present EQIP for Beginning Farmers. Ms. Silveri is the Agriculture Director of MIFFS (Michigan Food and Farming Systems) in Lansing, Michigan. She will help us understand the opportunities afforded through this program such as cost share of cover crop seed and how to apply. The EQIP program is supported by the US Farm Bill to assist US farmers to use smart practices that preserve and improve soil and water quality.
Please do join us
We hope that you join us for vibrant conversations and learning opportunities during these Beginning Farmer Sessions, Tuesday, December 9 and Wednesday December 10 at 7 pm - 8:30 pm, each day. Register for GLEXPO and you will be rewarded with quality educational programs and great networking opportunities. Visit www.GLEXPO.org to learn more about the event; educational programs, a virtual trade show, and Genius Bars, where you can talk to experts on the topic you are seeking.
GLEXPO Beginning farmer sessions overview
Beginning Farmer I
Tuesday Dec 7. 7:00-9:00 pm
Farmer Roundtable
Iythiyel Zurishaddai-Farming and working with D-Town Farms, Detroit MI
Mikayla Rowden, Owner and farmer of Stillwind Farm in Muskegon, Michigan
Carole Caplan-Sosin, owner and farmer of The Farm on Jennings in Ann Arbor, Michigan
Beginning Farmer 2
Wednesday Dec 8. 7:00-9:00 pm
Dr. Julie Grossman from University of Minnesota - The virtues of cover crops to support soil and crop health.
Dr. Ron Goldy, with Michigan State University Extension- Choosing robust varieties to meet your farming and market needs
Jen Silveri, Agriculture Director of MIFFS (Michigan Food and Farming Systems) in Lansing, Michigan-The EQIP program for beginning farmers-application and program identification.
Visit: www.GLEXPO.org for registration and program details
---