Cabin Fever Conversations
April 3, 2020 - June 12, 2020
Zoom Webinar
---
Contact: Abigail Harper, harperab@msu.edu, 857-600-6921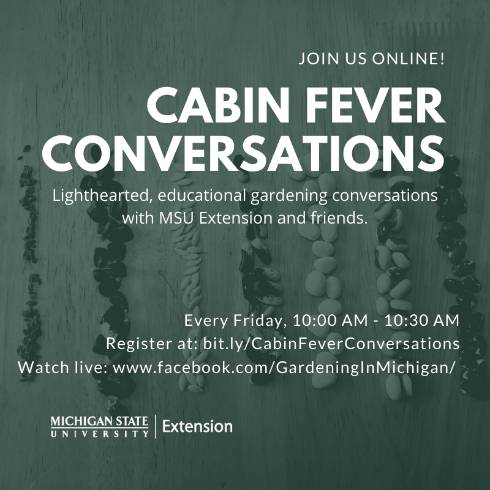 As we all practice social distancing and simultaneously get excited for spring, now is the time to readjust our sails and embrace virtual learning. "Cabin Fever Conversations" is focused on lighthearted, but educational conversations about gardening. There will be one featured guest per session who has some exciting specialty like seeds, houseplants, pollinator health, etc. Bring some questions of your own because there will be time for them at the end. We will be using Zoom for these conversations. More details about how to use Zoom and join the session are below. Each session will be under one hour. Take a break from your cabin fever and join!
We anticipate maxing out our Zoom webinar capacity. If you have difficulty logging on due to webinar capacity limits, we will also be live streaming these videos on the Gardening in Michigan Facebook group, which you can access at https://www.facebook.com/GardeningInMichigan/
Upcoming speakers:
May 22: Abbey Palmer (MSU Extension) shares strategies for bringing science into the garden
May 29: Egypt Mapes Krohn (Allen Neighborhood Center) teaches us about converting lawns to perennial landscapes
June 5: Nate Haan (MSU Department of Entomology) shares about building relationships with insects in your garden
June 12: Ali Zahorec (MSU Department of Entomology) invites us to explore the secret life of soil
More speakers to come!
Previous speakers:
April 3: Abby Harper (MSU Extension) shares her passion for seed saving
April 10: Sayde Heckman (Yew Dell Botanical Gardens) highlights her enthusiasm for indoor houseplants
April 17: Rebecca Finneran (MSU Extension) talks about container gardening
April 24: Ana Heck talks about supporting honey bees in your garden
May 1: Naim Edwards inspires with Edible Landscapes
May 8: Kelsey Graham (MSU Department of Entomology) shares about cultivating gardens for wild bees
May 15: Linnea Rowse (Michigan Audubon) helps us garden for birds
Zoom has helpful video tutorials about how to connect: https://www.youtube.com/embed/hIkCmbvAHQQ?rel=0&autoplay=1&cc_load_policy=1
Other important meeting controls (like mute, camera, etc.): https://www.youtube.com/embed/ygZ96J_z4AY?rel=0&autoplay=1&cc_load_policy=1
Related Topic Areas
Montcalm County, Gratiot County, Ionia County, Clinton County, Eaton County, Ingham County, Understanding Community Food Systems in Michigan, Community Food Systems, Community Gardening, Organic Agriculture, Indoor Plants & Pests, Flower Gardening, Lawn & Garden, Agriculture, Master Gardener Program, Gardening in Michigan
Related People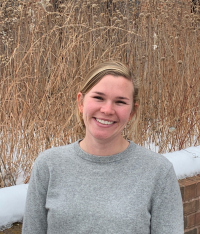 Isabel Branstrom
branstr2@msu.edu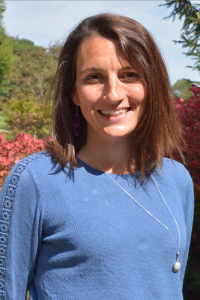 Abigail Harper
517-676-7207
harperab@msu.edu