Cabin Fever Conversations
February 5, 2021 - April 29, 2021
Virtual
---
Contact: For more information, contact Isabel Branstrom at branstr2@msu.edu or Abby Harper at harperab@msu.edu.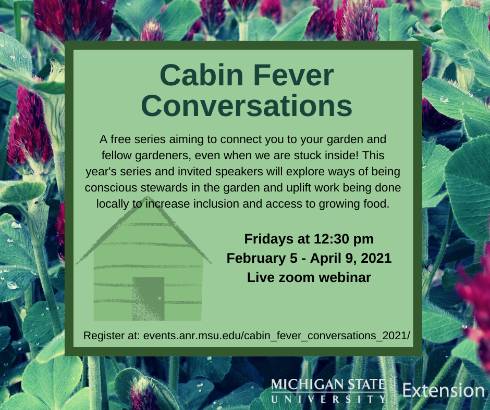 Every Friday
Feb. 5 to April 9, 2021
Starting at 12:30 p.m.
Online via Zoom
Cabin Fever Conversations is back! This FREE series aims to help connect you to your garden and fellow gardeners, even when we are stuck inside. Each week will feature a conversation to help get your mind outside and into the garden, highlighting the passion and wisdom of featured speakers. This year's series will explore ways of being conscious stewards in the garden and uplift work being done locally to increase inclusion and access to growing food. Sessions will be under one hour, including time for questions from the audience.
Follow up resources and recordings will be shared with registrants after each session and will be made available on the Gardening in Michigan website under Learning Online.

Zoom link and information to join will be shared on the confirmation of registration page.
Thank you to all of our speakers who are willing to share their experience, passion and expertise:
February 5, 2021
Seed Starting Indoors with Rebecca Krans, MSU Extension
February 12, 2021
"Ngnawenmidizomin (we look out for each other): Indigenous Community Gardening as Community-Building" with Grant Gliniecki, Giitigan Gardens
February 19, 2021
Compost and Biochar: Home Practices for Healthy Soils with Brooke Comer, PhD
February 26, 2021
Seed Saving with Shiloh Maples, Native American Food Sovereignty Alliance
March 5, 2021
Conversations in the Community with Allan Lee, Root of the Vine Urban Garden
March 12, 2021
Understanding Insects in the Garden with David Lowenstein, PhD, MSU Extension
March 19, 2021
Conversations in the Community with Shakara Tyler (Detroit Black Community Food Security Network) and Jerry Hebron (Oakland Avenue Farm, Detroit Black Farmer Land Fund
Hosted by Naim Edwards, MSU Extension
March 26, 2021
Identifying and Addressing Plant Diseases with Lori Imboden, PhD, MSU Extension
April 2, 2021
Conversations in the Community with Morgan Doherty, Capital United Land Trust
April 9, 2021
Small Scale Strategies for Season Extension with Abbey Palmer and Naim Edwards, MSU Extension
**Speakers and topics subject to change. If a change is made you will be notified prior to the program.

Please register to participate in this webinar series. When you register, you will automatically be registered for the entire series and the same Zoom link will be used for each session. There will be captioning (English) for recordings and live ASL Interpretation for each session.
Related People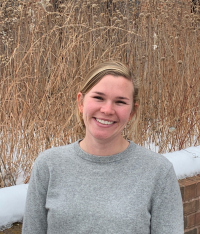 Isabel Branstrom
branstr2@msu.edu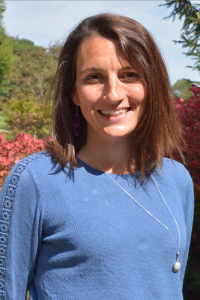 Abigail Harper
harperab@msu.edu
---