Canadian - U.S. Perspectives on PFAS: A One Health Challenge, Part 1 of 3
January 18, 2022 12:00PM - 1:30PM
Webinar
---
Join us for a speaker series on the history, science, impact, and challenge of PFAS in the Canadian and US context. Using a One Health framework, each webinar will include speakers from both Canada and the United States.
Registration is now open!
Part 1 on January 18 will feature:
Dr. Linda Birnbaum - The Challenge of PFAS in the United States
Linda S. Birnbaum, Ph.D., D.A.B.T., A.T.S., is the former Director of the National Institute of Environmental Health Sciences (NIEHS) of the National Institutes of Health (NIH), and the National Toxicology Program (NTP). After retirement, she was granted scientist emeritus status and still maintains a laboratory. As a board-certified toxicologist, Birbaum served as a federal scientist for 40 years. Prior to her experience as NIEHS and NTP Director in 2009, she spent 19 years at the U.S. Environmental Protection Agency (EPA), where she directed the largest division focusing on environmental health research.
Dr. Amila O. De Silva - PFAS in Canada: Great Lakes to the Arctic
Dr. Amila De Silva (she/her) is a researcher with the Canadian government. She has developed a research program on contaminants in natural ecosystems including the Great Lakes and Arctic. Amila is an expert in environmental chemistry and uses advanced analytical methods to discover, identify and measure emerging contaminants. Amila's research has contributed to international and federal decision-making on substances that are persistent, bioaccumulative, toxic and undergo long range transport. Amila has been studying PFAS since 2002, beginning with her Ph.D. studies at the University of Toronto. Amila is a first generation Canadian and resides in Burlington, ON.
This speaker series is co-hosted by the MSU Center for PFAS Research and Canada Connect.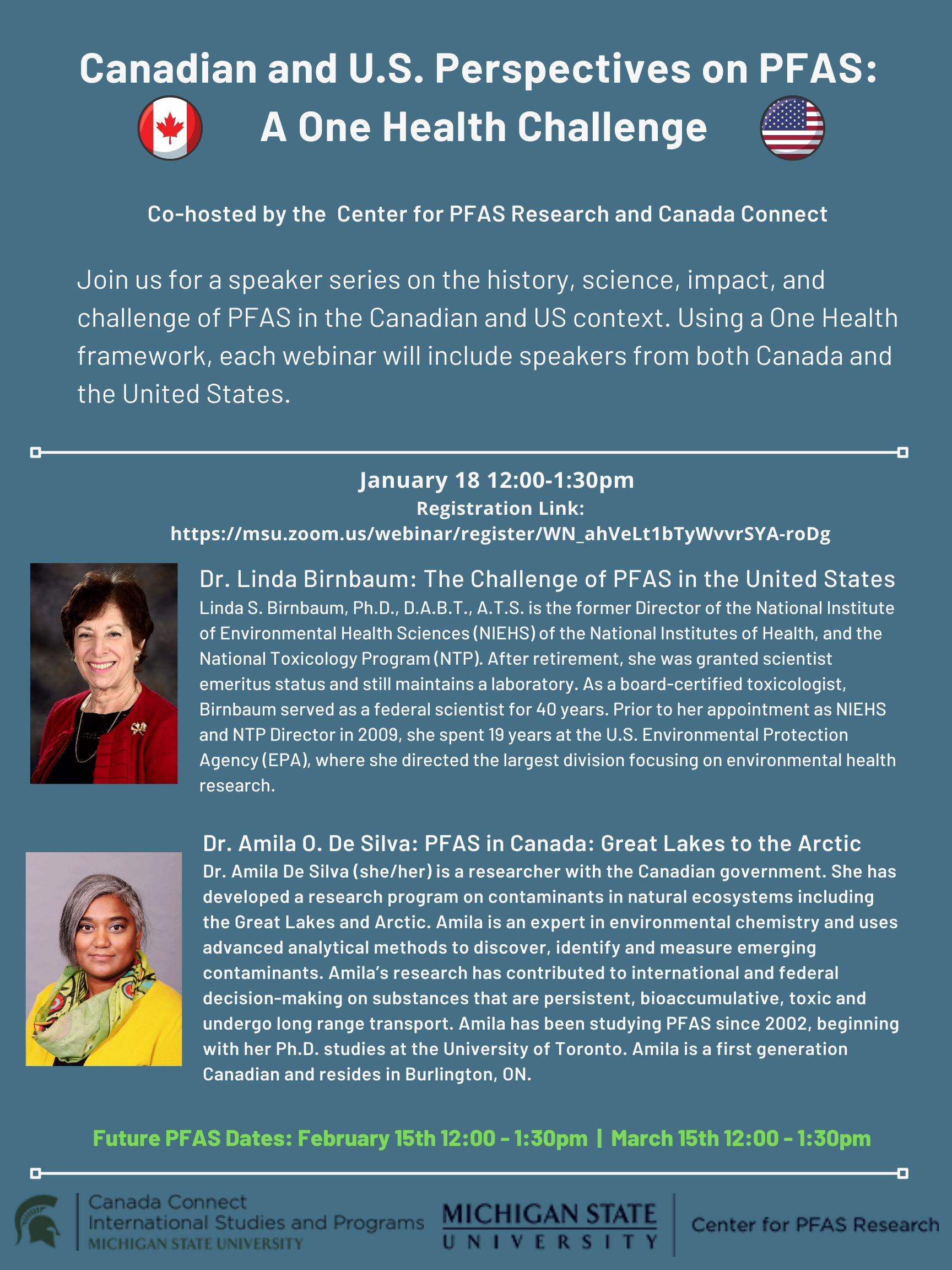 ---