CANCELED: CANR Alumni Golfing for Scholarships
June 2, 2020
Forest Akers West Golf Course, 3535 Forest Road, East Lansing, MI 48910
---
Contact: Faith Brooks-Mason, brook292@msu.edu, 517-355-0284
THIS EVENT HAS BEEN CANCELED DUE TO MSU'S RESPONSE TO THE NOVEL CORONAVIRUS. READ MORE ON THE MSU 2019 NOVEL CORONAVIRUS WEBSITE.
During this unprecedented time and in the interest of public health and safety, the decision has been made to cancel this year's Golfing for Scholarships event.
Next year's golf outing has been scheduled for June 8, 2021.

Proceeds of the outing benefit student scholarships, CANR student activities and alumni programming. Since 1989, the CANR Alumni Association has awarded more than $1 million in scholarships and student club grants helping more than 3,000 students.
Support for the annual Golfing for Scholarships event directly benefits CANR student club grants and scholarships.
To make your immediate gift to support the scholarship fund in any amount, visit https://givingto.msu.edu/gift/?sid=8187 or you can print off this response card and send it with a check to:
University Advancement
Spartan Way
535 Chestnut Road, Room 300
East Lansing, MI 48824
For additional information, including sponsorship opportunities or special accommodations, contact Faith Brooks-Mason.
Related Topic Areas
Get Directions
Related People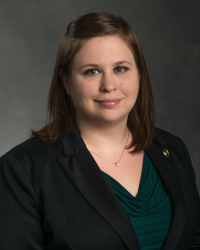 Faith Brooks-Mason
517-355-3887
brook292@msu.edu