Celebrate Pollinator Week 2020 in Macomb County
June 26, 2020 5:30PM - 7:30PM
Burgess Shadbush Nature Center 4101 River Bends Dr. Shelby Twp, MI 48317
---
Contact: David Lowenstein
5:30 - 6:15 p.m.: Free lecture by Dr. Rebecca Tonietto, Assistant Professor of Biology at U-M Flint
6:15 - 7:30 p.m.: Explore educational booths, taste 6 types of honey, participate in activities about pollinators
($5 advance registration, $7 on-site registration, Free for ages 5 and under)

What will I learn at the free lecture?
Dr. Tonietto will share her urban bee research in Southeast Michigan and information about the unique needs of urban pollinators

What pollinator activities will be at this event?
- Mason bee habitat and bee condos
- Bee stings and pain
- Raising honey bees and how honey is produced
- Taste honey from at least 6 different flavors
- Providing the right habitat for wild bees
- Urban bee research

What ages is this event appropriate for?
The urban bee lecture is suitable for young adults and older.
The pollinator activities are suitable for all ages.

How can I register?
Advance registration by credit card is preferred.
Space permitting, onsite registration will be available with payment by credit card or cash.
Related Topic Areas
St. Clair County, Oakland County, Macomb County, Wayne County, Pollinators & Pollination, Home Trees & Shrubs, Home Lawns, Lawn & Garden, Master Gardener Program, Lapeer County, Homeownership, Our Gardens
Get Directions
Related People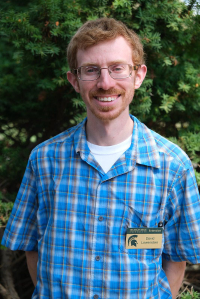 David Lowenstein PhD
586-469-6085
lowenst6@msu.edu