Comida Saludable, Familias Saludables
December 3, 2020 4:00PM - 5:30PM - January 14th, 2021 on Thursdays
Zoom
---
Contact: MSUE Wayne County; msue.wayne@county.msu.edu;
MSU Extension nutrition and physical activity programs provide participants with tips and tricks to include healthy choices into any lifestyle and budget. Our nutrition programs are funded by the Supplemental Nutrition Assistance Program – Education and the Expanded Food and Nutrition Education Program. Both programs aim to reach limited resource audiences, who are eligible for one or more of the following programs: Free/reduced school lunch; Food Distribution Program on Indian Reservation (FDPIR), Head Start, SNAP Bridge Card/EBT, WIC, and other assistance programs. We aim to have at least half of every class qualify by income.
Comida Saludable, Familias Saludables is for Spanish speaking parents and caregivers that want to help their family become healthier thru proper nutrition, exercise, and food safety.
Over 6 sessions, we will cover topics such as:
Identifying food groups and learning why our body needs a variety of foods
Converting your favorite meals into more nutritious meals
How to read food labels and use them to help choose the right foods for you and your family
Using a budget to be able to buy a greater variety of foods
How to keep the foods you buy safe for you and your family
Mealtime Miracles—feeding young children and picky eaters
Upon graduation of the class, you will receive a graduation certificate and incentives.
These courses will all be held virtually, utilizing Zoom. If you are interested in attending this course or another course like this, please contact: msue.wayne@county.msu.edu; 313-494-4797
Related People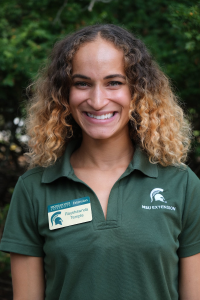 Rayshawnda Temple
templer1@msu.edu
---