Cozy Up to Nutrition - OTP Series
January 26, 2021 - February 16, 2021
Virtual
---
Contact: For information contact Community Nutrition Instructor Michelle Luttrell by phone (989) 341-3241 or by email luttre15@msu.edu. 
Join one or more presentations for engaging classes that teach you the basics of the MyPlate and the five food groups. You will get to practice how to make a balanced, healthy meal and understand how portion control can help you improve your overall health. Other topics covered include healthy snacking, feeding a picky eater, being a healthy role model, budgeting and meal planning, and kid friendly fruits & veggies.
You may select to attend as many sessions as you desire in registration.
Start simple with MyPlate - Tuesday 1/26/21
Healthy snacking - Thursday 1/28/21
CANCELED: Feeding a picky eater - Tuesday 2/2/21
Be a healthy role model - Thursday 2/4/21
Food budgeting & meal planning - Tuesday 2/9/21
Kid friendly fruits and veggies - Thursday 2/11/21
Feeding a picky eater, Tuesday 2/16/21
Related Topic Areas
Parenting Education Classes, Guiding Principles for Highly Successful Parenting, Parent Talk, Expanded Food & Nutrition Education Program (EFNEP), Health, Human Health: Food & Nutrition, Parent Education, Healthy Relationships, Nutrition, Food & Health, Safe Food = Healthy Kids, Show Me Nutrition, Food and Community Connections, Commercial Food Safety, MI Money Health, Food Processing, Technology and Safety, Food Safety Regulations and Courses, Creating Safe Environments for Youth, 4-H Healthy Youth, Center for Low-Moisture Food Safety
Get Directions
Related People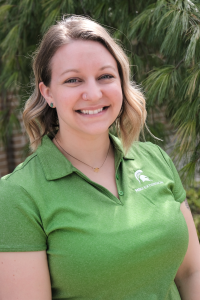 Michelle Luttrell
luttre15@msu.edu
---