Cue the Monarchs 2021 4-H SPIN Club June 3 - July 8
June 3, 2021 - July 8, 2021 4:00 PM EST
Registration Deadline: May 23, 2021 - 11:59PM
Zoom
---
Contact: Leigh Ann Theunick , Rachel Ochylski , Ashley Freed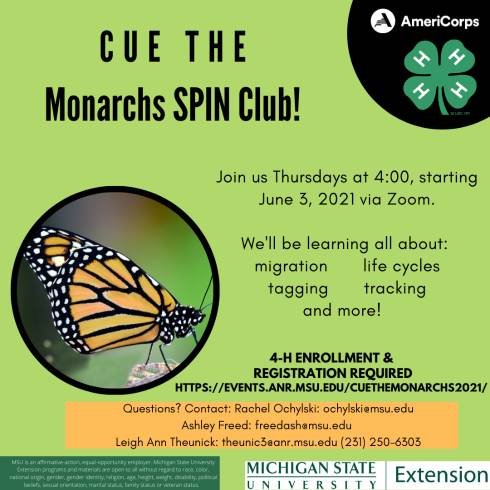 We are excited to announce that registration is open for this year's Cue the Monarchs 4-H SPIN Club. There will be some similar content covered from last year, but we also have lots of new, fun activities…including a kit!
The club will meet for 6 weeks on Thursdays at 4 pm from June 3rd to July 8th and will feature 30 to 45 minutes zoom meetings, covering topics including the biology, life cycle, migration, and ecology of the monarch butterfly. We'll learn how to search for eggs, raise monarchs, plant milkweed, and discover other insect life dependent upon the milkweed community. Participants will have the opportunity to present content pieces through journaling, artwork, photography, posters, and video. As fall migration draws near, members may have the opportunity to participate in a citizen science program, the Monarch Watch tagging project, and contribute data to the scientific community as we track migrating monarchs on their journey to Mexico.
This club is FREE and will also include a supply kit (one per family) for the fun, hands on activities we will be doing each week. Supply kits will be available for pick up in Alger, Cheboygan, Chippewa, Eaton, Emmet, Luce, Mackinac, Marquette, Otsego, Presque Isle, and Schoolcraft counties. You will be contacted with kit pick up details. If you are unable to pick up a kit, we can mail it to you, but ask that you cover the $17.25 mailing expense.
Register at https://events.anr.msu.edu/CuetheMonarchs2021/. Registration deadline is May 24th, but don't wait because space and kits are limited.
Registration for this event has closed.
Related People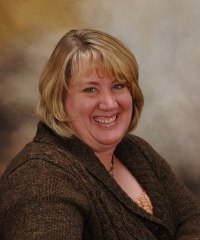 Leigh Ann Theunick
theunic3@msu.edu
Rachel Ochylski
ochylski@msu.edu
---