Cultivate Michigan Marketplace in Kalamazoo
January 12, 2023 4:00PM - 6:00PM
KVCC Culinary and Allied Health Building: 418 E Walnut St, Kalamazoo, MI 49007
---
Contact: Mariel Borgman and Garrett Ziegler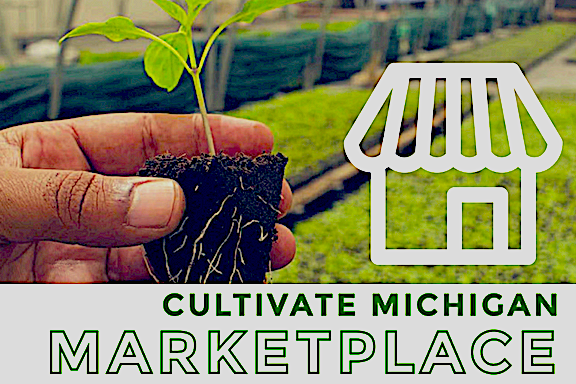 Who should participate?
10 Cents a Meal grantees seeking local food to spend their 2022-23 grant awards, and schools and ECE sites interested in applying to participate in 10 Cents a Meal in the future.
Other Institutional Food Service Buyers of all scales (such as small early care and education sites, schools, colleges, hospitals, etc.) interested in purchasing local food products from farmers and vendors in their region.
Farms and food businesses of all scales interested in selling local foods to institutional food buyers in the region and can meet the demands of different types of food service programs. Not all institutions use products developed by makers (ex. pre-made desserts, canned salsa), so it is important to consider if your products are right for a Marketplace event.
How the event works:
It's a mix between speed-dating and a trade show! Cultivate Michigan Marketplace events are unique because they focus on meeting the needs of institutional food service buyers. Each event is regional in scope and intended for institutional buyers and food suppliers of all scales. Institutional buyers will be stationed at tables around the room, and suppliers will rotate to meet with buyers of their choice.
Light refreshments will be provided along with plenty of time to mix and mingle! This event is brought to you by the Michigan Farm to Institution Network, Michigan Department of Education and local hosts MSU Extension Community Food Systems and Kalamazoo Valley Community College (KVCC) ValleyHUB.
This event is made possible through a MDARD Specialty Crop Block Grant and generous funding from the W.K. Kellogg Foundation. The Michigan Farm to Institution Network is coordinated by the MSU Center for Regional Food Systems with support from MSU Extension.
Deadline to register is December 30, 2022.
Get Directions
Related People
---