"Email-in" Tournament Survey
July 14, 2020 - September 30, 2020
---
Contact: Laura Quist, quistla1@msu.edu, 231-942-7552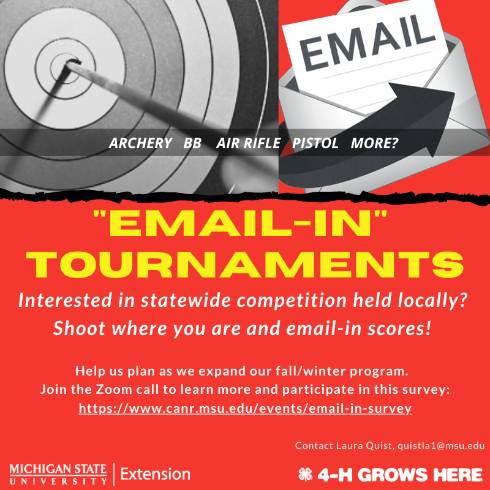 Now gathering interest in forming a new 4-H league!
Interested in statewide competition in Archery, BB Gun, Pistol, or Air Rifle held while shooting in your own county? Also known as "postal" tournaments, this is a competition held locally where scores and/or targets are mailed to organizers. (The name "postal" was traditionally used as targets were mailed in the USPS to the tournament administrator for final placement determination.) This allows for a statewide tournament while participants never leave their county. Other state 4-H programs currently have this type of tournament, with hundreds of members participating. We now can leverage technology to manage a tournament in a virtual manner.
An electronic survey has been created and information is being solicited from each county's certified volunteers to determine interest in this form of "virtual" competition. Participate here.
Learn more! Join us for an information meeting over Zoom.
WHEN: September 14, 2020 at 7 PM EST
REGISTRATION REQUIRED: https://bit.ly/31spJrM
Archery For archery, three separate events are being considered: a modified FITA round, a modified FIELD archery round and an indoor paper animal round. Each archery event will occur over a 4-6 week time period with scores submitted for that event by the end of that time period. Each event would be cover a separate, calendar date range and kids can choose from as many or as few of the events as they wish.
Other Disciplines BB Gun, Pistol, and Air Rifle virtual tournaments will also be considered if there's interest and volunteer support.
As with all 4-H shooting sports activities, this event will require the in-person presence of a certified shooting sports instructor.
Interested? Volunteers active in shooting sports for 2019-2020 were sent an email with a survey link, and asked to respond to the survey questions even if a 20-yard indoor shooting facility is not available in your county. Survey results will determine if there's interest, help form rules, and identify time frame of this event. Volunteers who did not receive this email are reminded to indicate "shooting sports" project area in 4Honline to be included in future emails.
Deadline: September 30, 2020
Contact your current shooting sports leaders or your county Extension staff to express your interest prior to the September 30th cutoff date for the survey.
Related Topic Areas
Keweenaw County, Houghton County, Ontonagon County, Baraga County, Gogebic County, Iron County, Dickinson County, Menominee County, Delta County, Marquette County, Alger County, Schoolcraft County, Luce County, Chippewa County, Mackinac County, Emmet County, Cheboygan County, Presque Isle County, Alpena County, Montmorency County
Related People