FCWG 2018-19 Learning Exchange Series Session - The Family Forest Carbon Initiative
May 8, 2019 11:00AM - 12:00PM 11 a.m. - 12 p.m.
Online (Zoom)
---
Contact: forestc@msu.edu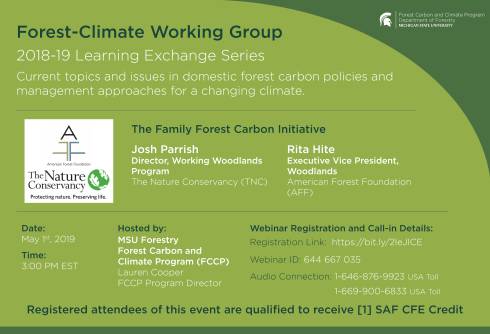 This webinar is the eighth in the 2018-19 FCWG Learning Exchange Series covering current topics and issues in domestic forest carbon policies and management approaches for a changing climate. The Learning Exchange Series is offered in collaboration between the Forest-Climate Working Group and the Michigan State University Department of Forestry Forest Carbon and Climate Program. This series will be hosted by Lauren Cooper, the Forest Carbon and Climate Program Director.
Speakers Josh Parrish, Director of the Working Woodlands Program at The Nature Conservancy (TNC) and Rita Hite, Executive Vice President of Woodlands at the American Forests Foundation (AFF), will overview the Family Forest Carbon Initiative.
All attendees must register for this webinar. To register, visit https://msu.zoom.us/webinar/register/WN_au3wzKjWTMWfxaTcY32Vpg.. Registered attendees will qualify for 1 SAF CFE credit. A recording of the webinar will be made available following the learning session and will be posted to the Forest Carbon and Climate Program website at www.canr.msu.edu/fccp/partners-and-projects/forest-climate-working-group-learning-series/index.
The next Learning Exchange Series session will be hosted on June 5th, 2019: Michael Catania, Executive Director of Duke Farms, will present "Natural Climate Solutions in New Jersey will present "Rejoining RGGI and a Case Study of Duke Farms". Register here: https://msu.zoom.us/webinar/register/WN_2RHzDuOfRQO0EFcP2SSlQg.
To receive registration details and additional information, please email forestc@msu.edu.
Get Directions
Related People
Lauren Cooper
517-353-1961
ltcooper@msu.edu