Fiscally Ready Communities: Budgeting for Fiscal Sustainability
March 16, 2023 1:30PM - 3:00PM
---
Contact: Eric Walcott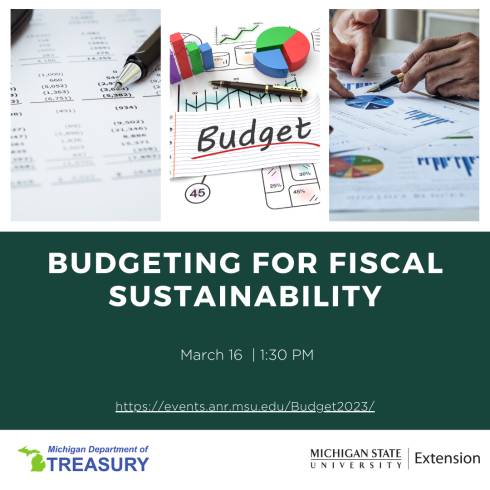 Fiscally Ready Communities: Budgeting for Fiscal Sustainability

MSU Extension and the Michigan Department of Treasury will cover the fundamentals of budgeting during uncertain economic times, tracking long-term fiscal health, and operational best practices.

Michigan communities have experienced fiscal instability for a number of reasons, including the economic downturn resulting from the COVID-19 pandemic, rising inflation, and ongoing economic uncertainty. This webinar will provide best practices for local government fiscal health, including budgeting, long-term planning, dealing with uncertainty, and financial policies and procedures.
Who should attend:
Elected and appointed officials in local government, administrators, and staff.
This training is geared toward appointed and elected officials with entry and intermediate budgeting knowledge.
What will be covered:
The budget process and communicating your budget
Dealing with uncertainty in a changing economy
Understanding key financial variables, such as: The "rainy day fund"/fund balance/net position
Understanding how the tax base provides revenue
Understanding volatile revenue
Forecasting revenue and expenditures
How to track your budget performance, including reviewing and amending your budget
How spending in the present will have an impact on the future.
What resources will be provided?
Detailed guides that outline strong policies and procedures each local government should have. These guides include a checklist to track what your local government already has, what you are working on, and next steps.
Cost: Free
Dates:
March 16, 2023 - 1:30-3 p.m. ET
Fiscally Ready Communities
The Fiscally Ready Communities program was created to assist communities that want to establish, measure, and maintain policies to increase operational and financial effectiveness and safeguards. This partnership between MSU Extension and the Michigan Department of Treasury helps local governments work towards fiscal health by sharing best practices in fiscal sustainability. There are currently four webinars that are part of the Fiscally Ready Communities program, with a fifth to be added later in 2023.
Related People
---