Fiscally Ready Communities: Managing Internal Controls
June 8, 2023 10:00AM - 11:30AM
---
Contact: Eric Walcott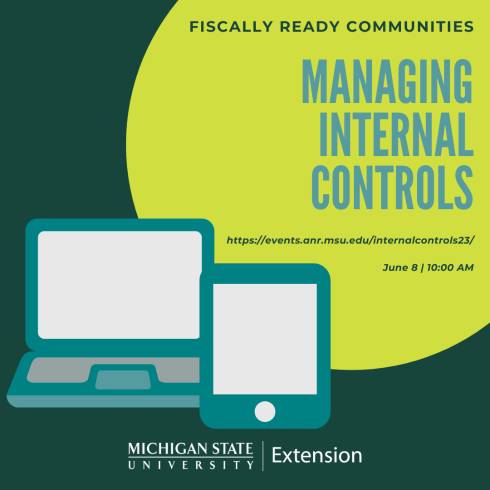 Fiscally Ready Communities: Managing Internal Controls
MSU Extension and the Michigan Department of Treasury will offer a deep dive into the local government internal controls framework.
A strong internal controls framework is an essential piece of a culture of fiscal sustainability. Internal controls play an important role in communication, decision-making processes, and trust-building in local government. This webinar will include a deep dive into internal controls. It will cover what internal controls are, why they're necessary, how they help your community, implementation, and where to start.
Who should attend:
Elected and appointed officials in local government, administrators, and staff.
This training is geared toward appointed and elected officials with entry and intermediate budgeting knowledge.
What will be covered:
Building a culture of fiscal sustainability
The role of internal controls in fiscal sustainability
Understanding internal controls and their importance
How internal controls help strengthen your community
Best practices for internal controls implementation
What resources will be provided?
Detailed guides that outline strong policies and procedures each local government should have. These guides include a checklist to track what your local government already has, what you are working on, and next steps.
Cost: Free
Dates:
Fiscally Ready Communities
The Fiscally Ready Communities program was created to assist communities that want to establish, measure, and maintain policies to increase operational and financial effectiveness and safeguards. This partnership between MSU Extension and the Michigan Department of Treasury helps local governments work towards fiscal health by sharing best practices in fiscal sustainability. There are currently four webinars that are part of the Fiscally Ready Communities program, with a fifth to be added later in 2023.
Related People
---