Getting Started with Beekeeping at Michigan Ag Ideas to Grow With Conference
February 27, 2023 6:00PM - 7:00PM
Online using Zoom
---
Contact: Ana Heck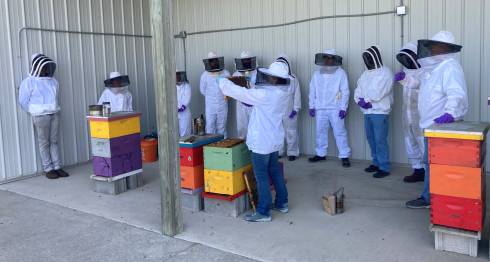 Getting Started with Beekeeping session
Have you wondered if beekeeping is right for you? Have you considered keeping honey bees to produce your own, local honey? Honey bees are awe-inspiring, but keeping them healthy takes a lot of learning and hard work. Before you get started, find out what costs, time, and effort are required. Learn what beekeepers do and where they can go for resources and support.
We all benefit from a healthy pollinator population. You don't need to become a beekeeper to help take care of our bees! This presentation will also cover pollinator diversity, issues that bees are facing, and what people can do to support pollinator health.
Join the Michigan Ag Ideas to Grow With virtual conference for a live presentation by Ana Heck, Apiculture Extension Educator at Michigan State University on how to get started with beekeeping. The session will be held on Monday, February 27th at 6pm Eastern.
This session will offer 1 RUP credit (1A, 1B, 1C, Comm CORE or Priv CORE).
MI Ag Ideas to Grow With virtual conference
The 2023 MI Ag Ideas to Grow With conference will be held virtually February 27 - March 10, 2023.
This unique event was created in 2021 to provide an opportunity for education encompassing many aspects of the agricultural industry and offering a full array of educational sessions for farmers, and others interested in food production and those considering agricultural endeavors.
This two-week educational experience features a variety of tracks focused on livestock production, fruit and vegetable production, crop production, farm business management for beginners, irrigation and drainage, farm stress, the environment, and community food systems.
Sessions will be held using the Zoom platform. There is no cost to register, but pre-registration is required.
To register, visit https://events.anr.msu.edu/miagideas/. For questions, contact: ANR Event Services, braidbet@msu.edu, 517-884-7081
Stay connected to MSU Extension
Get Directions
Related People
---