Holiday Make and Take
November 21, 2019 6:00PM - 8:30PM
Plant and Soil Sciences Building (1066 Bogue St, East Lansing, MI, 48824)
---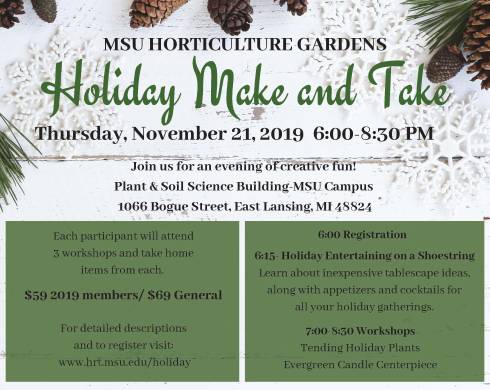 Registration is now closed. Please check back for another Make and Take event in the Spring!
Join us at the MSU Horticulture Gardens for an evening of creative fun! Each participant will attend 3 workshops and take home items from each.
Workshops
Holiday Entertaining on a Shoestring
Learn about inexpensive tablescape ideas, along with appetizers and cocktails for all your holiday gatherings.
Tending Holiday Plants
Amp up your holiday décor game with live plants! Ever wonder how to keep your poinsettia pristine or get your Christmas cactus to re-bloom? In this workshop, we will demystify the world of holiday horticulture. Each attendee will receive a festive plant to spruce up their holiday décor and the confidence to keep it growing through the New Year, and beyond!
Evergreen Candle Centerpiece
In this workshop each participant will create a candle centerpiece arrangement to adorn your holiday table. Evergreens are such a versatile material we will use them as the canvas for our centerpiece and show you how to take it from your Thanksgiving table to your December holiday gatherings.
Schedule
6:00 PM - Registration
6:15 PM - Holiday Entertaining on a Shoestring
7:00 PM - Workshops: Tending Holiday Plants; Evergreen Candle Centerpiece
Registration
$59 for 2019 MSU Horticulture Gardens members
$69 for non-members
No refunds issued; registrations are transferable.
Check out our memberships page for more information about being a member of our gardens.
***Registration is now closed. Event is FULL***
Get Directions