Embryology 4-H SPIN Club
May 25, 2021 - June 29, 2021
Registration Deadline: May 17, 2021 - 12:00AM
Virtual
---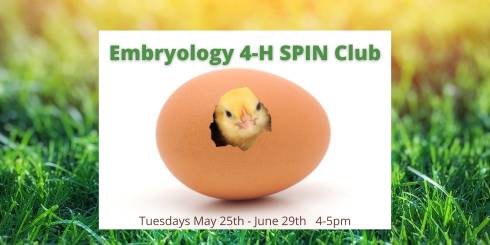 Back by popular demand!
Join now and help grow baby chicks (virtually) during the 4-H Embryology SPIN Club! The Club has its own incubator and participants will be watching the chicks hatch virtually! A FREE learning kit will be mailed directly to participants and is packed full of eggs-tremely fun supplies for club activities will be mailed to each participant. During the 4-H Embryology SPIN Club, we'll explore parts of a chicken egg, incubator set up, incubation days 1-21 (daily chick development, candling, the hatch!), after the hatch, and chick handling.
This Virtual 4-H SPIN Club is FREE to join and designed for youth ages 8-12 but open to ages 5-19 (adult guidance suggested for younger youth). Meetings will take place Tuesdays, from May 25th-June 29th.
Registration closes on May 17th. Open to all current and new 4-H Members.
Register today at https://events.anr.msu.edu/Embryology24hspincclub/
If you have trouble registering, or general questions about this club, please email Ashley Rodarte at rodarte1@msu.edu.
Registration for this event has closed.
---