Hunting & Wildlife QuizBowl
December 15, 2022 - January 2, 2023
---
Contact: Laura Quist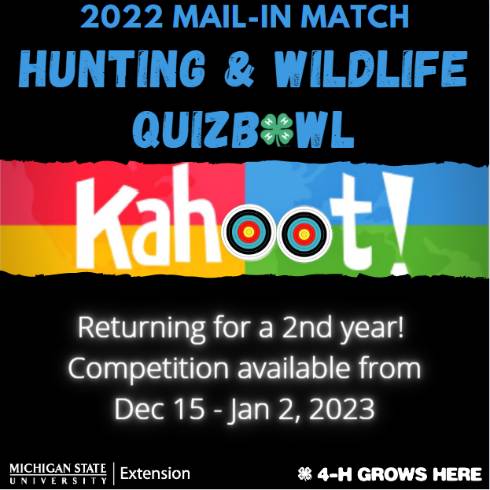 Game now open!
4-H Members are encouraged to test their knowledge of wildlife and natural resources in the 2022 Hunting & Wildlife QuizBowl! Participants should be registered in a 4-H club for the current program year. Ages 5-19 welcome to play. Gameplay is offered over a free program called Kahoot! and may be played from a smart phone or computer. Entries received more than once will be deleted, with lowest score kept.
How to register and play:
Log into the game at http://bit.ly/3hxlypB and follow the prompts.
Prizes awarded to top place finishers! To be eligible enter info in this format:

Nickname: Enter using <first 3 letters of your county> <first name> <last name>
Use only this format to be identifiable for judging.

Event open for 19 days, Dec. 15 - Jan. 2, 2023.
If the link above does not work, join the game by visiting https://kahoot.it/ & enter Gamepin: 06949695
Interested, but don't have a club near you? Join us at an upcoming 4-H Hunting & Wildlife Instructor training! Adult volunteers and teen leaders age 14+ are welcome to register for the following workshops:
Related People
---