Hygienic testing workshop in Lansing, MI
June 16, 2023 1:00PM - 4:00PM
Registration Deadline: June 9, 2023 - 11:30PM
MSU Pollinator Performance Center, 4090 College Rd, Lansing, MI 48910
---
Contact: Ana Heck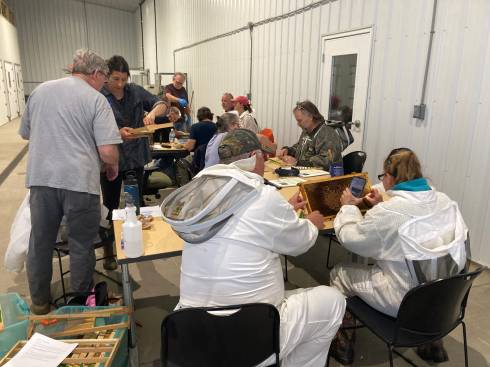 Join Michigan State University for a workshop on how to test honey bee colonies for hygienic behavior. The session will demonstrate methods including the freeze killed brood assay using liquid nitrogen, the duster spray can assay, and sampling for varroa mites in sealed brood.

Beekeepers interested in this workshop may also register separately for MSU's queen rearing workshop that will take place on the following day, Saturday, June 17th.

Members of Great Plains Master Beekeeping can count this workshop toward master level credit in the 3.20 selecting for hygienic bees & varroa resistance category.

This event is subject to change or cancellation due to weather or other circumstances.

Registration is $30 per participant. If the registration fee poses a barrier to your enrollment, please Ana Heck at heckanar@msu.edu to inquire about a fee waiver. Fee waivers are also available to students.
Requirements
This event is only for adults (18 years or older).
All participants are expected to understand that there is a risk of being stung. Participants are encouraged to arrive with their own protective gear/clothing. MSU will have veiled beekeeping jackets (sizes M and XXL) for participants to borrow, but protection from stings is not guaranteed.
If you have ever experienced an allergic reaction to an insect sting, you must receive clearance from a medical professional and the program instructor prior to the event.
Accessibility accommodations
Michigan State University is committed to providing equal opportunity for participation in all programs, services and activities. Accommodations for persons with disabilities may be requested by contacting the event contact, Ana Heck, two weeks prior to the start of the event. Requests received after this date will be honored whenever possible.
Acknowledgment
This work is supported by the Crop Protection and Pest Management Program [grant no 2021-70006-35450] from the USDA National Institute of Food and Agriculture.
Get Directions
Related People
---