Insect collection and identification
June 28, 2022 5:30PM - 8:30PM
Registration Deadline: June 18, 2022 - 11:00PM
21885 Dunham Rd, Assembly Room A, Clinton Twp, MI 48036
---
Contact: David Lowenstein
This class will provide an introduction on how to collect, identify, and preserve insects. The first part of the course will be an outdoor (weather permitting) opportunity to view and collect insects by several methods outside the building. This will involve a walk of 300 - 500 feet from the building. Afterwards, we will return indoors for a presentation on insect collections and identifying insects of all shapes and sizes. This will include hands-on work at pinning and labelling collected insects. Attendees are also welcome to bring their own insects for pinning. All participants will receive an insect collection box, set of pins, and will have the opportunity to leave the class with 10-20 pinned insects.

Ages: This event is suitable for youth 10 & older and adults.
About the instructor:
David Lowenstein is an entomologist and consumer horticulture extension educator in Macomb County. He has been involved in entomology research and outreach for 10 years, and his favorite insect is the green sweat bee.
Fee: $20

Cancellation policy: A full refund, less a $5 processing fee, will be issued for any registration cancelled on or before June 18. No refund will be issued after this date. If unable to attend after registering, substitutions for another person are permitted.

Certified Extension Master Gardeners: Attendees will earn 3 continuing education hours.
Registration for this event has closed.
Get Directions
Related People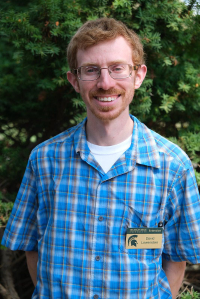 David Lowenstein PhD
lowenst6@msu.edu
---