Making It In Michigan Conference and Trade Show
April 20, 2023 9:00AM - 3:30PM
Registration Deadline: April 5, 2023 - 11:45PM
The Lansing Center, 333 E Michigan Ave, Lansing, MI 48933
---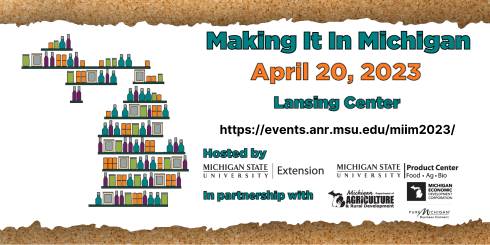 Conference
Have an idea for a food business? You can interact with the MSU Product Center Team and many thriving Michigan food businesses to learn how to develop your idea into a viable business.
Want to learn more about making your business more efficient and profitable? The conference component features morning educational sessions that will concentrate on different business strategies. This year's educational program will feature five panels on the following topics: Co-Packers, Financing, Distribution, Retail Experts, Entrepreneurial Best Practices. All five are hot topics that will ignite our entrepreneur's business to take it to the next level of success.
Join us the evening before the conference on April 19, 6-8 p.m., for a casual reception in the Lansing Center's Riverstreet Pub to network with MSU Product Center staff and other food entrepreneurs in Michigan.
Conference Cost: $125
*Conference cancellations prior to April 5, 2023 will be fully refunded. Cancellations on or after April. 5, 2023 will not be eligible for a refund.
Marketplace Trade Show
Choose your vendor booth location for the Marketplace Trade Show! Please be sure to review the Marketplace Trade Show Booth Map as you will be able to choose your vendor booth location during the registration process. The booths marked with a green dot are already reserved. You will have the option to provide your top three choices and locations will be confirmed in the order in which paid registrations are received. If you do not select a booth location, one will be chosen for you.
CBD and Cannabis Items are NOT ALLOWED for display or sale at this event.
You MUST be a Michigan Company to register as a vendor.
Will you need electricity at your booth? This will be an additional cost to you the vendor. Visit this link to register and pay for electricity for the day of the event.
Will you need high speed Wi-Fi for your booth to stream videos? Basic Wi-Fi will be available the day of the show. Higher speed Wi-Fi will be an additional cost to the vendor. Sign up here.
Safe food sampling practices must be followed. See this link for more information.
Direct sales are permissible at this event. If you are accepting cash, please be prepared to give change.
Continental breakfast and lunch items will be sold via concessions for booth vendors.
Ice will be sold at the event by a vendor associated with the facility.
Electricity and high-speed Wi-Fi are available at an additional cost and must be purchased by the vendor separate from this registration.
Cost: $100. Powered by our partnership with Pure Michigan Business Connect (PMBC) and the Michigan Department of Agriculture and Rural Development (MDARD).
*Vendor Booth cancellations prior to April 5, 2023, will be fully refunded. Cancellations on or after April. 5, 2023, will result in a $50 cancellation fee. A no-show or cancellation on the day of the event will result in no refund given.

SPREAD THE WORD! This event is open to the public and has FREE general admission.
Get Directions
---