MI 4-H Animal and Veterinary Science Camp 2023
June 26, 2023 - June 29, 2023
---
Contact: Autumn Converse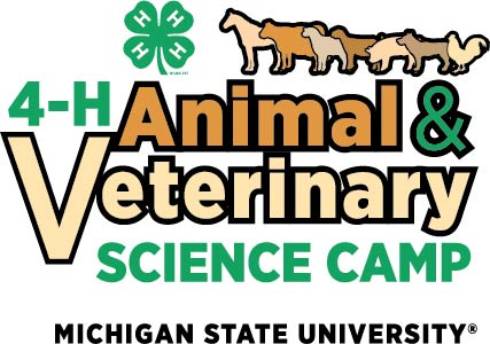 Michigan 4-H Animal & Veterinary Science Camp
June 26-29, 2023
About the camp
Michigan 4-H Animal and Veterinary Science Camp is for youth who are interested in exploring animal and veterinary science related projects and activities. Participants must be ages 13 to 17 as of January 1 of the current programming year.
This four-day pre-college program held at Michigan State University is a partnership with the Michigan 4-H Youth Development, MSU Department of Animal Science, and MSU College of Veterinary Medicine. Youth will explore fields relating to animal and veterinary medicine as well as participate in numerous hands-on learning activities. Participants will also gain animal handling experience while having the opportunity to visit and explore MSU farms and facilities. Throughout the week, teens will work their way through a veterinary science case study as a team and create a presentation to be critiqued by veterinarians. This is a fun and interactive camp that will allow youth to conduct activities, ask questions, and problem-solve. Additionally, this camp will help youth explore various animal-related career fields while reflecting on their experiences and community programs.
How do I apply?
Admission to this camp is based on a competitive application process. The application for this year's 4-H Animal & Veterinary Science Camp will become available in March 2023. Applications will open on March 10th and will close at 11:59 p.m. EST on March 31st. No late applications will be accepted.
Applicants must be 13-17 years old as of January 1, 2023.
Applications for 2023 are now closed. We look forward to receiving your application in 2024!
What is the cost?
4-H Animal & Veterinary Science Camp fee includes lodging, meals, and camp materials. The cost for 2023 is $410.
Additional Details
Please review our 2023 FAQs and Application Questions document for more details prior to submitting your application.
Related People
---