Mindful Wellness for One
November 1, 2021 - November 29, 2021
Registration Deadline: October 29, 2021 - 11:45PM
Manistique Senior Center, 101 Main Street, Manistique, MI, 49854
---
Contact: Tracie Abram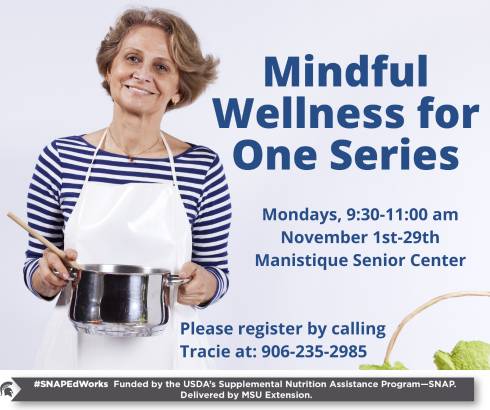 Mindful Wellness for One: A health series with lessons on mindfulness, cooking for one, and physical activity.
Audience: Adults, 17 year+ and Seniors.
Register by contacting Tracie Abram at abram@msu.edu or 906-235-2985
Mondays in November, 9:30am-11am at the Manistique Senior Center.
Join us for a series that will offer lessons from the Stress Less with Mindfulness and Cooking for One curriculums. Each session will include lessons on mindfulness, nutrition, and physical activity.
Mindfulness, Nutrition and Physical Activity Topics
November 1—Mindful Breathing & The Basics
November 8—Mindful Eating & Getting Started in the Kitchen
November 15—Mindful Moving & Planning and Preparing
November 22—Mental Mindfulness & Shopping Smart for One
November 29—Mindful Laughter & Safe Storage
Mindfulness is paying attention to the present moment without judgement. Learn how to manage stress, anxiety and/or pain, through mindfulness from Extension Educator Tracie Abram.
Schoolcraft County Community Nutrition Instructor Jill Connin will teach participants how to cook small meals that are simple and fun, make healthier choices and lead some low-impact physical activity. Participants will receive a free participant book recipes.
Get Directions
Related People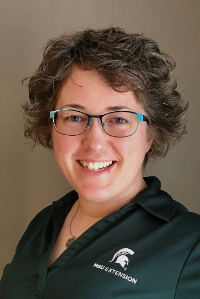 ---