Nature Discovery 4-H Day Camp
August 10, 2021 - August 12, 2021 End time 3:00 p.m.
Registration Deadline: August 2, 2021 - 11:45PM
Shirley Clark Pavilion, Ingham County Fairgrounds, 700 E. Ash St, Mason, MI 48854
---
Contact: Glenda Weiss, weissgle@msu.edu, (517) 676-7303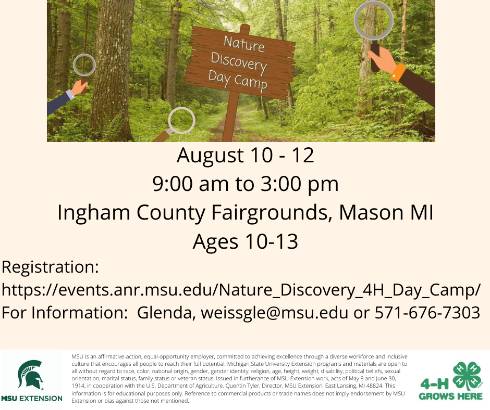 Three days filled with outdoor adventures and hands on activities. Explore, learn about, and connect with the natural world. Camp will be filled with activities such as games, crafts, hiking, scavenger hunts, and discovering nature through exploration.
DATES
August 10th—12th
TIME
9:00 am to 3:00 pm
LOCATION
Ingham County Fairgrounds
700 E. Ash St.
Mason, MI
AGES
10 to 13 years of age
COST
$25.00
MORE INFORMATION
weissgle@msu.edu
517-676-7303
Registration
https://events.anr.msu.edu/Nature_Discovery_4H_Day_Camp/
Registration deadline: August 2nd
Registration for this event has closed.
Get Directions
---