Our Table - Food Waste
March 21, 2018 4:30PM - 6:00PM
MSU Surplus and Recycling Center, 468 Green Way, East Lansing, Michigan 48824
---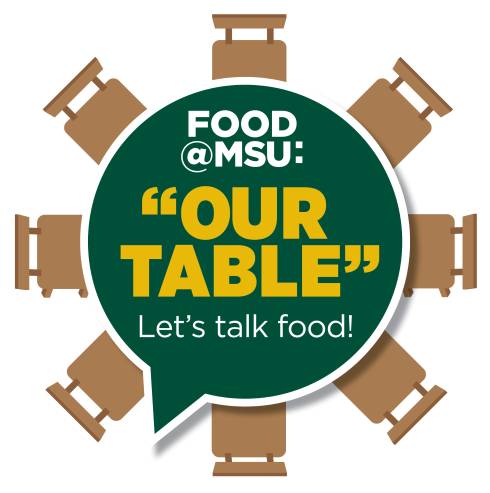 "Our Table" is a series of community roundtable discussions on various food topics, ranging from health to sustainability. Launched in fall 2017, it is the cornerstone of Food@MSU, an initiative within Michigan State University's College of Agriculture and Natural Resources designed to help consumers understand more about food and where it comes from.
Through cultivating meaningful conversation, "Our Table" brings together food experts, farmers, health professionals and community members to listen to each other, and foster trust and mutual understanding to make more informed choices about food.
The second "Our Table" discussion will focus on food waste and take place Wednesday, March 21 at the MSU Surplus and Recycling Center, 468 Green Way, East Lansing, Michigan 48824. Tours of the facility will begin at 3:30 p.m. The panel discussion will begin at 4:30 p.m. and conclude at 6 p.m. The public is invited to attend this free event and listen to a lively conversation on food waste between local community members, including MSU faculty, with the opportunity for questions.
Jonathan Bloom, author of "American Wasteland: How America Throws Away Nearly Half of its Food (and what we can do about it)" will be part of the panel. His visit is sponsored in part by the Center for Regional Food Systems.
Other panelists include:
Natalie Molnar, energy analyst, Lansing Board of Water & Light; program coordinator, Live Green Lansing
Sriram Narayanan, associate professor of supply chain management, MSU Eli Broad College of Business
Science communicator Sheril Kirshenbaum, author of "Unscientific America: How Scientific Illiteracy Threatens our Future" is the moderator for the "Our Table" discussions.A unique selection of light appetizers and refreshments made using food that typically goes to waste will be served. Any food waste generated during the event will be sent to local landscape supplier Hammond Farms to be turned into compost through Live Green Lansing's Scraps to Soil program.
This event will be recorded and livestreamed. The livestream can be viewed on Food@MSU's Facebook page.
Related Topic Areas
Get Directions