Project FISH Workshop
March 5, 2019 - March 6, 2019
152 Natural Resources Building, Michigan State University
---
Contact: Mark Stephens
There is a lot to learn about how to start a fishing program in your local community, and Project FISH (Friends Involved in Sportfishing Heritage), a fishing instructor workshop, has it all, from aquatic ecology and tackle making to actual angling skills such as catching, cleaning and preparing fish. This program's focus will be how to be successful in getting kids and families fishing. Project FISH will provide resources for low-cost, stewardship-oriented materials and connections so you can have fun creating our future natural resources stewards.
The program cost is $75. You will receive curriculum, rod and reel, a backyard bass game, tackle and materials, and lunch. This workshop is partially funded by the Bosch Community Fund.
Contact Mark Stephens at steph143@msu.edu or 517-432-2700 for additional information. Find registration for the Project FISH workshop at http://www.projectfish.org/anrweek2018.pdf.
Related Topic Areas
Get Directions
Related People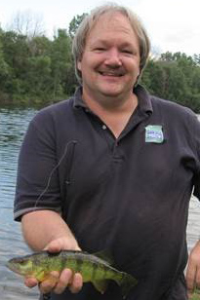 Mark Stephens
517-432-2700
steph143@msu.edu