Seminar: Dr. Miquel Moretó
February 13, 2019 8:30AM - 9:30AM 8:30 a.m. - 9:30 a.m.
1310 Anthony Hall, 474 S Shaw Ln, East Lansing, MI 48824
---
Contact: Dr. Adam Moeser 517-353-5978, Moeserad@cvm.msu.edu, Dr. Dale Rozeboom 517-355-8398, Rozeboom@msu.edu.
Dr. Miquel Moretó (1950, Barcelona, Spain) obtained his MPharm degree in 1973 and PhD in 1976, both from the University of Barcelona (UB). In 1979 he made a post-doctoral stay in the Department of Physiology at King's College in London (UK). He has been teaching in the Department of Physiology of the UB since 1975, a full professor since 1986, and served as chair from 1998 to 2001. He leads the UB Digestive Physiology and Nutritional Adaptations group which belongs to the Research Institute for Nutrition and Food Safety. His research focuses on the physiology of the intestinal epithelium, using both in vivo and in vitro models, with special emphasis on the regulation of nutrient absorption and epithelial permeability, and the crosstalk of the intestinal mucosa with the bioactive components of food. He has participated in 26 national projects (17 as research leader) and directed over 25 research projects with pharmaceutical and food companies. He has authored more than 90 papers in peer reviewed journals and presented over 180 communications to congresses and symposia. He has also been Associate Editor of the European Journal of Nutrition (1998-2010) and is currently member of the Spanish Society for Physiological Sciences (since 1978) and The Physiological Society (since 1997).
FOR MORE INFORMATION CONTACT: DR. ADAM MOESER (517-353-5978 OR MOESERAD@CVM.MSU.EDU, OR DR. DALE ROZEBOOM AT (517) 355-8398 OR ROZEBOOM@MSU.EDU.
Get Directions
Related People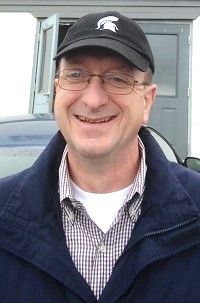 Dale Rozeboom PhD
517-355-8398
rozeboom@msu.edu