Solar grazing pasture walk
September 21, 2021 6:30PM - 8:30PM
Registration Deadline: September 20, 2021 - 12:00AM
Herbruck's Green Meadow Organic Facility, 3896 Grand River Ave. Saranac, MI 48881
---
Contact: Charles Gould, 616-834-2812 or gouldm@msu.edu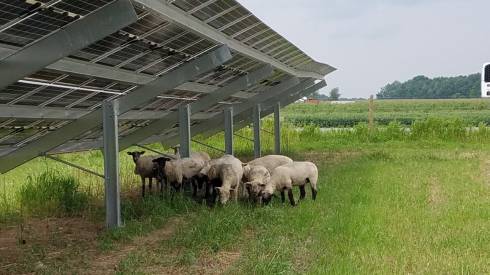 This event is for sheep producers, local government officials, electricity generators and aggregators, and solar developers. Individuals who attend this pasture walk will learn how sheep can be utilized for vegetation management under and around ground-mounted solar arrays. Attendees will hear from the solar grazer, MSU Extension staff, Herbruck's staff, the solar developer, and environmental consultants involved in the solar project.
Please follow the signs for parking at the event. Registration is free, but please register by Sept. 20 at https://events.anr.msu.edu/solargrazing/
Thank you to Golder for sponsoring refreshments.
Registration for this event has closed.
Get Directions
---