State 4-H Horse Show
August 16, 2019 - August 18, 2019 8 a.m. - 6 p.m.
Pavilion for Agriculture and Livestock Education. 4301 Farm Lane, Lansing, MI 48910
---
Contact: Taylor Fabus , Carla McLachlan
During the weekend of Aug. 15-18, 2019 the Michigan 4-H State Horse Show will draw exhibitors from around the state to compete at the Michigan State University Pavilion for Livestock Education Pavilion in East Lansing, Mich.
The State 4-H Horse Show is an annual three-day event that brings together roughly 600 4-H'ers from counties across Michigan. Members are selected by their county 4-H programs to participate in this event. Competing at the show and being able to represent their home county is a great honor for the youth. Over the three-day show, members compete in; English, dressage, western, trail, jumping, gymkhana and PEP (Horseback riding for riders with disabilities) classes, against some of the most accomplished youth riders in Michigan.
Many spend months -- even years -- preparing themselves and their horses or ponies for the show, in hopes of bringing home a gold medal, or even being named a state champion. Although the show is competitive, the experience the youth gain from it is far greater than simple awards.
What is unique about the State 4-H Horse Show is that it is almost entirely run by volunteers. Family and friends of 4-H from across the state come together to plan and run the show. Without their help and the support of the many sponsors and commercial vendors, the show would not be the great event that it is. Registration information will be available mid-summer at: www.canr.msu.edu/horses_ponies
Related Topic Areas
Event Location
Pavilion for Agriculture and Livestock Education. 4301 Farm Lane, Lansing, MI 48910
517-432-5566
Get Directions
Related People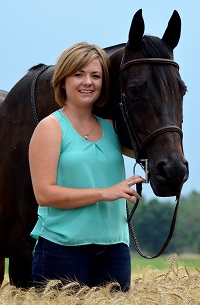 Taylor Fabus
517-353-1748
tenlenta@msu.edu
Carla McLachlan
517-432-5402
mclachl2@msu.edu