The Magic of Mindfulness 4-H SPIN Club
May 6, 2021 - May 27, 2021
Registration Deadline: May 27, 2021 - 11:59PM
---
Contact: Ally Baird - 4-H STEAM Corps Member, Macomb County - bairdal2@msu.edu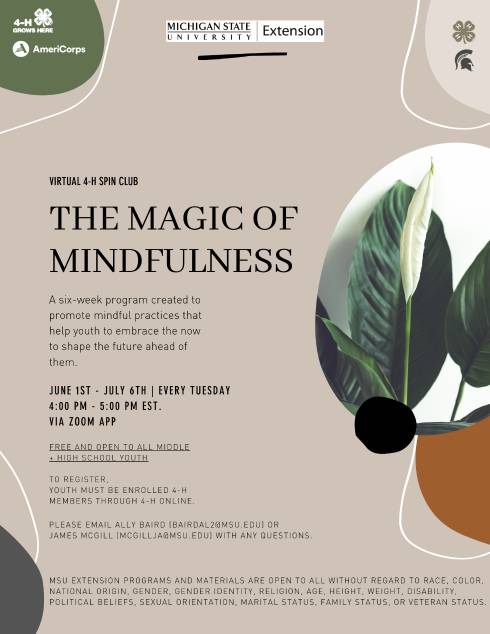 Tuesdays, Beginning June 1
June 1 - What is Mindfulness
June 8 - Mindful Eating
June 15 - Purpose of Presence
June 22 - Stress Management
June 29 - Positive Relationships
July 6 - Meditative Walking

4-5 p.m. ET via Zoom

Who: Youth ages 13 and up as of Jan. 1, 2021

What: The Magic of Mindfulness is a six week program created to promote mindful practices that lead to improvements in managing one's own goals, developing a sense of self, time management, stress management, emotional regulation, and mindful eating practices. Our ultimate goal is for youth to embrace the now to shape the future ahead of them.

This club designed for youth ages 13 and up will meet once a week for six weeks, exploring various mindfulness practices. Minimal supplies will be needed for the hands-on activities, and a supplies list will be provided prior to the start of each week.

Where: We will meet virtually via Zoom. All Zoom information will be communicated to registrants prior to our first meeting.

Cost: FREE

Enrolling in 4-H:
Because this program meets the requirements of a 4-H SPIN (short-term special interest) club, we are asking all participants to enroll in 4-H through 4-H Online, our 4-H member enrollment system. By enrolling your child in the club through 4-H Online, your child is enrolled as a 4-H member for the rest of our program year (now-Aug. 31, 2021). This means that they will have opportunities to join other clubs, and participate in programs/activities that may only be available to 4-H members. Joining 4-H opens up doors to so many great opportunities! The great thing about enrolling as a 4-H member this year, is that the annual participation fee to join of $20 has been waived! It is FREE to join 4-H this program year!
To enroll your child as a 4-H member in the Magic of Mindfulness 4-H Club, please go to: https://v2.4honline.com/
A family guide and new family video provide helpful instructions for how to enroll. Please add SPIN Magic of Mindfulness as your primary club. You will find the club listed under Macomb County.
If you are already an enrolled 4-H member, we will add the club to your profile for you.
Registration for this event has closed.
---