The Wizarding World of 4-H 4.0 SPIN Club
February 14, 2022 - April 25, 2022
Registration Deadline: February 9, 2022 - 09:00PM
---
Contact: Katelyn Golembiewski burnska9@msu.edu and Tonya Pell pelltony@msu.edu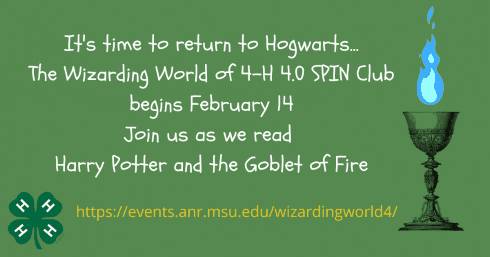 2nd and 4th Mondays of February, March, and April
February 14 and 28
March 14 and 28
April 11 and 25
4:30 - 6 p.m. ET via Zoom

Who: Youth ages 10+ years old as of Jan. 1, 2022

What: The Wizarding World of 4-H SPIN club is back for round 4! Participants will read Harry Potter and the Goblet of Fire, the fourth book in the Harry Potter series.

Twice a month, we will discuss chapters read, quiz our wizard knowledge, and show off completed hands-on activities. House points will be earned throughout the entirety of the program with a chance to win "The House Cup." On weeks when we don't meet, hands-on activities and challenges will be assigned using the GooseChase App. These will provide a way to stay engaged with the club, even when we aren't meeting. It will also be a way to earn House points!

Where: Coming to you in your favorite reading spot...we will meet virtually via Zoom. All Zoom information will be communicated to registrants prior to our first meeting.

Cost: FREE

The GooseChase platform is designed for youth ages 13 and over. Parent permission is needed. Youth under the age of 13 may use the platform if set up through an adult account created by a guardian who agrees to the usage.
Registration for this event has closed.
---