Todays Mom
December 3, 2020 12:30PM - 2:00PM - January 14th, 2021 on Thursdays
Virtual - Zoom
---
Contact: MSUE Wayne County; msue.wayne@county.msu.edu; 313-494-4797
MSU Extension nutrition and physical activity programs provide participants with tips and tricks to include healthy choices into any lifestyle and budget. Our nutrition programs are funded by the Supplemental Nutrition Assistance Program – Education and the Expanded Food and Nutrition Education Program. Both programs aim to reach limited resource audiences, who are eligible for one or more of the following programs: Free/reduced school lunch; Food Distribution Program on Indian Reservation (FDPIR), Head Start, SNAP Bridge Card/EBT, WIC, and other assistance programs. We aim to have at least half of every class qualify by income.
Today's Mom aims to improve the dietary and physical activity habits of moms-to-be in ways that are sustainable before, during, and after pregnancy.
Six sessions with interactive activities will help moms-to-be understand the changes pregnancy has on the body.
This free series will cover topics such as:
Relief for common pregnancy discomfort
A babies development
Healthy eating for mother and baby
Reading food labels
Menu planning
Keeping active during and after pregnancy
Upon graduation of the class, you will receive a graduation certificate and incentives.
These courses will all be held virtually, utilizing Zoom. If you are interested in attending this course or another course like this, please contact: msue.wayne@county.msu.edu; 313-494-4797
Related People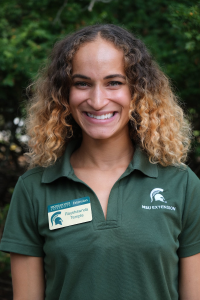 Rayshawnda Temple
templer1@msu.edu
---