Tri-State CSA Conference "Thinking Inside the Box"
November 12, 2022 - November 13, 2022
Registration Deadline: November 6, 2022 - 11:59PM
Ft. Wayne, Indiana
---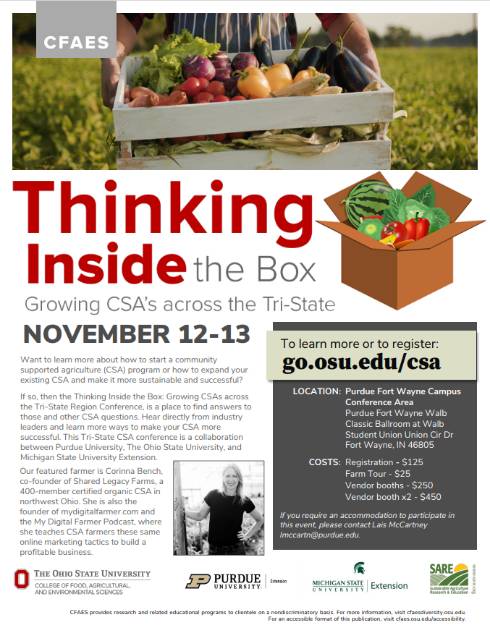 Want to learn more about how to start a community supported agriculture (CSA) program? How about learning how to expand your existing CSA and make it more sustainable and successful? If so, then the Thinking Inside the Box: Growing CSAs across the Tri-State Region Conference, is a place to find answers to those and other CSA questions.
Experts with The Ohio State University College of Food, Agricultural, and Environmental Sciences (CFAES) in collaboration with Purdue University, and Michigan State University, will host the conference Nov 12 and 13, 2022 in Fort Wayne, IN.
The goal, said Christie Welch, who is an organizer of the event, is to Assist our CSA operators take advantage of the increased demand by consumers for a convenient and safe way to access the locally produced foods they have come to expect. This conference will provide an opportunity for producers to learn from their peers who have successfully operated CSAs for years as well as hear from extension experts on a variety of topics.
Get Directions
---