Virtual 4-H SPIN Club: LEGO Digital Creations
December 3, 2020 - December 22, 2020
Zoom
---
Contact: For information contact Lance Fowler at fowler37@msu.edu.
Thursdays/Tuesdays, Dec. 3 - 22, 2020
4 - 5 P.M. EST
Online via Zoom Meeting
ABOUT THE CLUB:
The LEGO Digital Creations Virtual 4-H SPIN Club is a 4-week virtual 4-H youth program that will focus on the club members using an online platform (Bricklink's Studio 2.0 - learn more by clicking on the link) to create their own LEGOs digitally. This online app is free to use and can be downloaded on a Windows PC or Apple's Mac. Each club meeting will run for about an hour and will be given mini design challenges to learn the basics of the app. Also, the members will be working on their main LEGO Creation the whole time we are together. There will be limited spacing to the first 25 fully enrolled 4-H Members.

This club will meet virtually via Zoom (both computer and smartphone accessible) every Thursday/Tuesday for 4 weeks (6 total meetings). Zoom Meetings will be limited to youth who have enrolled on 4-H Online (4-H Online Link) for the club. Access information, including meeting links/passwords, the material list, and other information, will only be emailed to those who have enrolled on 4-H Online. Failure to enroll may result in you not receiving the email updates or removal of the club.
NEW TO 4-H:
If you are new to 4-H and not sure how to enroll, please click on this video link which will show you step by step how to enroll. There is no membership fee to be a Michigan 4-H Member for the 2020-2021 program year. Lance Fowler will also be emailing you on how to enroll in this specific club.

EXISTING 4-H MEMBERS:
For existing 4-H members, please make sure you have re-enrolled for the 2020-2021 program year. Here is a video link to show you how to re-enroll for this program year.

PARTICIPATION FEE:
As a reminder, there will be no participation fees collected for the current program year so there is no cost to re-enroll, though some specific events may continue to have registration fees.
LOCATIONS:
The online meeting will be held using the app called Zoom and the link/password for the meeting will be emailed 1-2 business days once you are registered for the club.
DATES: Dec. 3, Dec. 8, Dec. 10, Dec. 15, Dec. 17, & Dec. 22
WHO SHOULD PARTICIPATE: Any youth between the ages of 9 - 19 should join the LEGO Digital Creations Virtual 4-H SPIN Club.
Related Topic Areas
Related People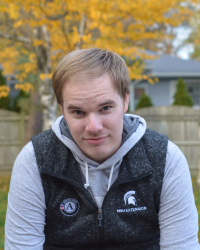 ---