What Fish Eat and Make Fish Nets - Youth Fishing Academy May 5
May 5, 2022 6:00PM - 7:30PM
---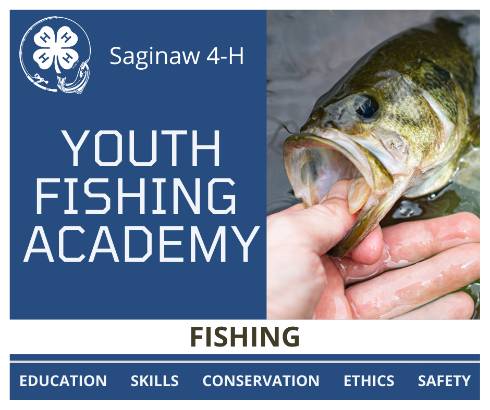 Do you enjoy being outdoors? Do you like to fish? Do you want to learn about fishing in Michigan? Join the Youth Fishing Academy for this exciting opportunity to increase your fishing knowledge!
The Saginaw 4-H Youth Fishing Academy will provide FREE monthly workshops where youth from across the region will have opportunities to build connections with other youth who share their fishing and outdoor interests, learn a variety of angling skills, and cultivate conservation knowledge and fishing ethics. Activities will include ice fishing rod making, tackle crafting, fly tying, casting, rod rigging, fishing games, and more.
Each session will include an educational presentation from fishing experts including the Michigan DNR and will be followed by a hands-on fishing project!
Pre-registration is REQUIRED.
Space is limited so register early for this opportunity!
Youth Fishing Academy Schedule
Thursday, January 27 from 6:00pm - 7:30pm
Make an Ice Fishing Jigging Rod/Tackle
Ice Fishing Safety
Saturday, January 29 from 9:30am - 11:00am
Make an Ice Fishing Jigging Rod/Tackle
Ice Fishing Safety
Thursday, February 24 from 6:00pm - 7:30pm
Knot Tying - Tackle Crafting – Fly Tying
Fish ID and Life Cycle
Saturday February 26 from 9:30am – 11:00am
Knot Tying - Tackle Crafting – Fly Tying
Fishing Management and Ethics
Tuesday, March 22 from 6:00pm – 7:30pm
Knot Tying - Tackle Crafting – Fly Tying
Fish Anatomy and Senses
Thursday, March 24 from 6:00pm – 7:30pm
Rod Rigging and Casting – Fly Casting
Fish Habitats, Measurement, and Handling
Thursday, April 28 from 6:00pm – 7:30pm
Rod Rigging and Casting – Fly Casting
Planning Your Fishing Trip
Thursday, May 5 from 6:00pm – 7:30pm
What Fish Eat?-Macroinvertebrates – Make traps and nets
Healthy Streams
---