History of the Sanctuary
History of Baker Woodlot and the Rachana Rajendra Neotropical Migrant Bird Sanctuary
The documented history of Baker Woodlot and the Rachana Rajendra Neotropical Migrant Bird Sanctuary (RRNMBS) begins with the founding of Michigan State College in 1855. At that time, the College's landholdings were comprised mainly of dense forest (Crozier 1896). By the turn of the century, virtually all areas on campus had been cleared of trees except for two tracts of land (Smith 1897). These tracts later became known as the Sanford Natural Area and the Baker Woodlot. In 1894, the State Board of Agriculture resolved that these areas be preserved to demonstrate the proper techniques for managing woodlands to produce "continuous lasting profits." (Crozier 1896).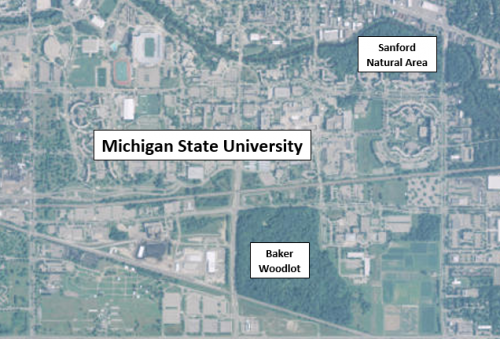 In November 1902, control of Baker Woodlot (approximately 78 acres) and Sanford Natural Area was transferred to the Department of Forestry (Bogue 1903), which holds jurisdiction over them today. In 1941, Baker Woodlot, which had originally been called South Woodlot, received its name to honor two brothers who attended the university, James Fred Baker and Henry Lee Baker (Beach and Stevens 1979). On June 5, 1999, Baker Woodlot was co-designated the RRNMBS in honor of Rachana Rajendra. Ms. Rajendra was an avid bird lover who was tragically killed in a car accident in 1997. To honor her memory, the Rajendra family and friends established an endowment in her name. Baker Woodlot and the RRNMBS serves the MSU community as a place to learn, explore and reflect.

Vegetation History

Since 1902, several cutting and planting episodes have taken place within the woodlot. In 1903, improvement cuttings described as the removal of over mature trees were made and replaced with black locust (Robinia pseudoacacia), bitternut hickory (Carya cordiforis), and basswood (Tilia americana). From 1906 to 1909, several fires occurred within the woodlot. Black locust, chestnut (Castanea dentata) and white ash (Fraxinus americana) were planted soon thereafter. In 1935, R. H. Westveld of the Forestry Department selected two small plots in the north-central part of the woodlot for experimentation. One was clear cut and the other selectively cut for the purpose of comparing the growth rate between trees in each section. General improvement cuttings also took place in 1938 and 1947 to remove over mature trees. Records are not clear as to the precise location of these cuttings and plantings (Beach and Stevens 1979).

Black Locust Bitternut Hickory Basswood Chestnut

The southern edge of the woodlot was used as a nursery around the turn of the century for black locust and ponderosa pine (Pinus ponderosa). The northwest corner was also used for this purpose; planted with alternating rows of eastern black walnut (Juglans nigra) and northern white cedar (Thuja occidentalis) in 1910. Northern white cedar has been removed since this time, with the exception of one remaining tree (Beach and Stevens 1979).

White Ash Ponderosa Pine Black Walnut Northern White Cedar
Baker Woodlot and the RRNMBS is one of eight areas on the Michigan State University campus with a Category I natural area designation. Category 1 natural areas are areas managed at the highest level of protection and lowest level of usage.

Literature Cited

Beach, J. H., and W. D. Stevens. 1979. A study of Baker Woodlot. I. Physical and historical description. Michigan Botanist. 18:126-136.

Bogue, E. E. 1903. Report of the Forestry Department. Annual Report State Board of Agriculture. 41:42-46.

Crozier, A. A. 1896. The college woodlots. MAC Record. 1:1.

Smith, C. D. 1897. Report of the Department of Practical Agriculture. Annual Report Secretary of State Board of Agriculture Michigan. 34:33-40.
Tree Photo Credits (left to right)
Norbert Frank, University of West Hungary, Bugwood.org
Chris Evans, University of Illinois, Bugwood.org
Chris Evans, University of Illinois, Bugwood.org
John Ruter, University of Georgia, Bugwood.org
Richard Webb, Bugwood.org
Tom DeGomez, University of Arizona, Bugwood.org
Robert Vidéki, Doronicum Kft., Bugwood.org
Becca MacDonald, Sault College, Bugwood.org