Judith DeLapa Perennial Garden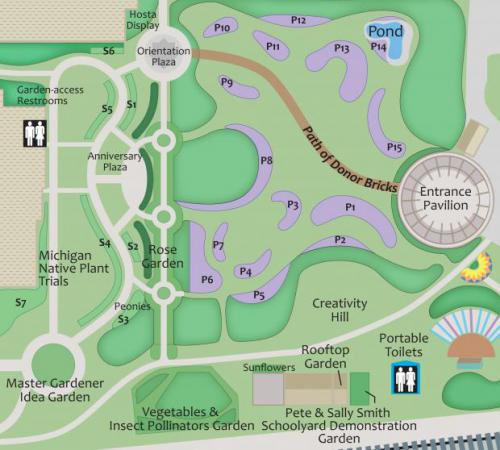 The Judith A. DeLapa Perennial Garden features the colors, textures and forms of flowering and nonflowering herbaceous perennials, bulbs and ornamental grasses. Ten island beds totaling 6,500 square feet informally display a multitude of diverse perennials. Because the perennials bloom at different times, the display is ever-changing, starting as early as March and ending in November, sometimes later!
The DeLapa Garden is an educational resource for students, industry professionals and the public. Plants are labeled with their scientific, cultivar and common names. Thus, gardeners can learn the names of those plants that pique their curiosity.
The entrance pavilion forms the entrance to the perennial gardens. It is a circular, open-air structure with a central planter with a purple-leafed beech (Fagus sylvatica purpurea) surrounded by two rows of classical columns that support an overhead wooden trellis. In May, the spectacular wisterias burst into bloom! In the summer, hyacinth beans (Dolichos lablab) climb up the many trellises.
The perennial pond in the northeast section of the garden provides a scenic spot to observe water lilies and other aquatic plants. It was renovated in 2009 and sports beautiful new stonework surrounding the pleasant, peaceful setting. There are benches to sit on and contemplate the pond, perennial beds, gently sloping berms, trees and ornamental shrubs. Children of all ages will enjoy looking for frogs and fish.
Following are lists of plants currently on display and listed by bed number: Note that these inventories change often and are updated periodically.
Bed Inventories

An updated list coming soon!