Plan a Wedding or Event
Update on weddings at the Gardens
We'd like to clarify our earlier post regarding cancelations and rescheduling. We are very hopeful and still plan that we will be seeing our couples in August and September! To keep you all informed, we wanted to let you know that we are awaiting a response on whether we will be continuing to operate under that assumption from administration. So far, we have rescheduled April, May, June and July weddings. We understand that planning a wedding can be hard work in normal times, so we want to always be as transparent as possible. Especially so, with our July and beyond clients to avoid last-minute rescheduling. During these ever-changing times, we want to work with our clients as much as possible to create lasting memories, even if the memories are made on a different date. We will stay in touch with updated information as the situation evolves. Feel free to reach out to us if you have specific questions about your rental at gardens@msu.edu. Or, if you have had to cancel at another venue, feel free reach out and let's see if we can put you in our books for next year! We are here for you, and we will get through this together!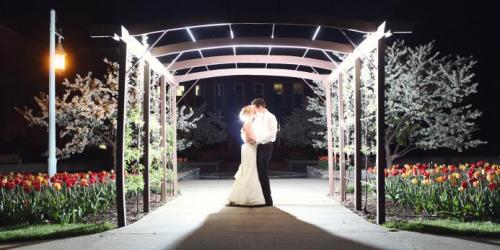 Nestled within the campus of Michigan State University is a garden wonderland where inspiration awaits you!

The Horticulture Gardens of MSU offer a unique, beautiful location for both wedding ceremonies and receptions. In fact, they are recognized as one of the most charming and romantic locations in Lansing! The Horticulture Gardens is also a great location to host your next baby shower, bridal shower, graduation party, banquet, or other event. The possibilities are limitless!

Set amongst thousands of blooming flowers, you will find several picturesque locations designed specifically to host your wedding or other event. To view these locations, click on the album links below
Getting Started with a New Event
For complete details on services, options, pricing and more, download our Private Event Rental Information.
For photos of our event venues, visit our North Garden and South Garden pictorial or our Facebook page.
If you are interested in booking a wedding or an event at the Gardens, we highly recommend taking a complimentary private tour first. Simply contact our wedding coordinator, at gardens@msu.edu.
From there, let our experienced staff assist in planning your event -- from tents, tables, and chairs -- to lighting. We can recommend many local companies to complete your planning needs.
To set-up a complimentary tour, or for additional planning information, contact:
Amy McCausey
Wedding & Event Coordinator
517-353-0443
gardens@msu.edu
Already Have a Booked Event and Need to Make a Payment?
Visit our secure MSU Horticulture Garden's Events Cashnet store to make a payment. You'll need a valid credit card, event date, and payment amount (from your contract) to finalize the transaction.

Visit us on Facebook for photos and other information!
Page photography credit to Abby Fox Photography.