Rent the Gardens for a Wedding or Private Event
Update on weddings at the Gardens
We are happy to announce that we are booking weddings and events in the Gardens for 2023! There are several dates remaining for 2021 and 2022. Check our availability here.
Below are the current guidelines for events at the Gardens from the University (these restrictions are subject to change as the pandemic progresses and recedes). We are working to align our restrictions with the Executive Orders for gatherings which currently limits indoor gatherings to 25 and outdoor gatherings to 300 people.
For all events
Currently 100 guest limit
Currently outdoor events only

Limited building access for bridal party only

Masks are required to be worn at all times by guests and the bridal party over the nose and mouth if medically able to do so during the entire reception and any time they are not eating or drinking at reception tables

The bridal party will wear masks at all times, except while eating, drinking, and during the ceremony and pictures. The bridal party may remove masks indoors to apply makeup and hydrate

Seating is limited to same household only and will be spaced to comply with social distancing requirements
Seating cards are not allowed at this time but seating charts are welcome
Restrooms with exterior building entrance will be available to all guests, regardless of event location
For receptions
Catering is limited to licensed caterers that follow the current health department guidelines. No self-serve buffets will be allowed
Dancing will be restricted to at tables only, no dancing in the traditional manner on a dance floor

Feel free to reach out to us if you have specific questions about your rental at gardens@msu.edu. If you would like to schedule an on-site tour, you can select a day and time that works best for you here.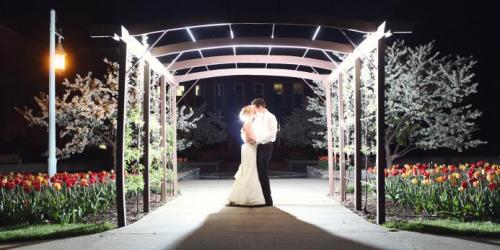 Nestled within the campus of Michigan State University is a garden wonderland where inspiration awaits you!

The Horticulture Gardens of MSU offer a unique, beautiful location for both wedding ceremonies and receptions. In fact, they are recognized as one of the most charming and romantic locations in Lansing! The Horticulture Gardens is also a great location to host your next baby shower, bridal shower, graduation party, banquet, or other event. The possibilities are limitless!

Set amongst thousands of blooming flowers, you will find several picturesque locations designed specifically to host your wedding or other event. To view these locations, click on the album links below
Getting Started with a New Event
For complete details on services, options, pricing and more visit:
For photos of our event venues, visit our North Garden and South Garden pictorial or our Facebook page.
If you are interested in booking a wedding or an event at the Gardens, we highly recommend taking a complimentary private tour first. Simply choose a day and time that works best for you here.
From there, let our experienced staff assist in planning your event -- from tents, tables, and chairs -- to lighting. We can recommend many local companies to complete your planning needs.
For additional planning information, contact:
Amy McCausey
Wedding & Event Coordinator
517-353-0443
gardens@msu.edu
Already Have a Booked Event and Need to Make a Payment?
Visit our secure MSU Horticulture Garden's Events Cashnet store to make a payment. You'll need a valid credit card, event date, and payment amount (from your contract) to finalize the transaction.

Visit us on Facebook for photos and other information!
Page photography credit to Abby Fox Photography.