Study Abroad
Horticulture students have many opportunities to study abroad in their own or closely related discipline. The Horticulture Department's own faculty-led study abroad information is below. For other closely related discipline opportunities, visit the Education Abroad Horticulture Advising Page.
HRT 475: International Studies in Horticulture (3 credits)
The History and Future of Horticulture in the U.K.
Offered in early May on odd years.
Program application deadline: February 15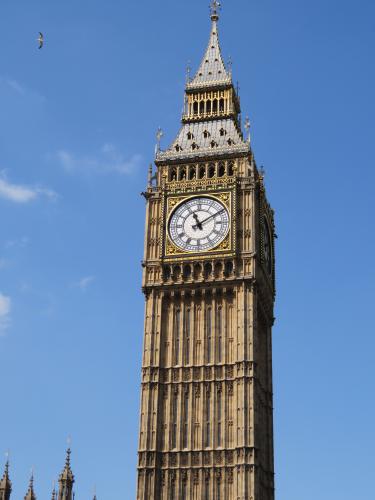 Program Overview:
This is a faculty led two-week program to the United Kingdom, split between London, central England, and Northern Ireland. The program goal is to describe and compare historical horticulture techniques/issues with modern day aspects of horticulture. The program will have required classroom work in Spring semester (after spring break). Hours will be arranged so all students can attend. This will allow us to limit the amount of classroom time while in the U.K. and instead perform site visits daily. Enrollment will be limited to 20 students.
The itinerary includes site visits to the London Garden History Museum, a London garden center, the Royal Botanical gardens of Kew and Wisley, Chelsea Physic Gardens, Queen Elizabeth Olympic Park, Cultivate London, a greenhouse tomato producer, a greenhouse ornamental producer, mushroom and apple research in Northern Ireland, lodging and educational activities at the College of Agriculture, Food and Rural Enterprise (CAFRE) in Northern Ireland. Students will have free time in London and Belfast to explore historical and cultural attractions.
Course Objectives:
After taking this experiential learning course, students will:
Gain historical and geographical knowledge of horticulture
Explain and describe the modern urban horticulture movement
Explain and describe the historical use of plants as medicines, poisons, textiles and compare and contrast to modern uses of plants
Be able to describe and explain modern sustainable plant production practices and compare and contrast those with traditional methods
Explain how the use of plants can improve the environment and apply and demonstrate that knowledge through a service learning project with native students
Identify, describe, and explain modern horticulture issues and compare and contrast with historical ones
Identify and explain modern plant handling and distribution, including bio-safety concerns
Understand how modern research is performed for sustainable production and protection of plants
Practice written and oral communication (journaling, oral presentations)
Student Requirements:
HRT 203 and HRT 204 completed by time of travel (or instructor approval)
Minimum GPA 2.75
Excellent communication and written skills
An essay and interview will be required as part of the application process.
Program fee:
Varies based on year and enrollment. In 2017, the fee was $2,575, which included:
Housing in London (3-4 students per flat)
A group luncheon in London
7-day tube (subway) pass
Transportation and entry fees into class-related venues
Transportation and housing for Evesham trip plus airfare to Northern Ireland from Birmingham
Housing and two meals per day in Northern Ireland (dorms)
Other costs:
In addition to the program fee, students will need to pay:
Tuition (3-credit class)
Airfare (~$900-$1,300)
Passport ($130)
Additional meals ($500 at most – could be much cheaper if you cook in London in flat)
Spending money ($750 is suggested, not because that is how much you will spend, but you have to prove to U.K. immigration that you have enough money in your bank to get home).
Itinerary from May 2017 (may vary from year-to-year)
Date

Activity

Lodging

Sunday

May 7, 2017

Fly out of the U.S. late in the day

None

Monday

May 8, 2017

Arrive in London. Meet Accent International at your apartments. Remaining day free.

Flats in central London (3-4 students per flat)

Tuesday

May 9, 2017

London Orientation in the morning

Welcome Lunch as a group

Garden History Museum

Visit London Garden Center

Flats in central London

Wednesday

May 10, 2017

Kew Gardens

Flats in central London

Thursday

May 11, 2017

Chelsea Physic Gardens

Queen Elizabeth Olympic Park

Flats in central London

Friday

May 12, 2017

Cultivate London (a grass roots urban horticulture organization)

Classroom afternoon

Flats in central London

Saturday

May 13, 2017

Wisley Gardens

Flats in central London

Sunday

May 14, 2017

Free day

Flats in central London

Monday

May 15, 2017

Bus to Evesham, England

R&L Holt (greenhouse tomato producer)

Evesham, England

Tuesday

May 16, 2017

Ball Colegrave (ornamental producer)

Fly to Belfast

College of Agriculture, Food, and Rural Enterprise (CAFRE) in Antrim, Northern Ireland.

Wednesday

May 17, 2017

CAFRE educational day

CAFRE

Thursday

May 18, 2017

CAFRE service project

Giants Causeway

CAFRE

Friday

May 19, 2017

Gilfresh (vegetable processing facility)

Agri-Food and Biosciences Institute (mushroom and apple research)

CAFRE

Saturday

May 20, 2017

Free day in Belfast

CAFRE

Sunday

May 21, 2017

Fly home
To apply and for more information: https://osa.isp.msu.edu/Programs/ukhorticulture.html
Or contact Susan Gruber (grubers@msu.edu) or Kristin Getter (getterk@msu.edu)