Horse Management
The Horse Management program includes coursework in horse farm management, feeding and nutrition, basic reproduction, horse behavior, horsemanship, exercise physiology, and horse election/judging.
The typical program is three semesters of on-campus learning and one semester of off-campus placement training experience at a horse facility. Students can also focus their area of interest toward management, reproduction, riding instruction or training.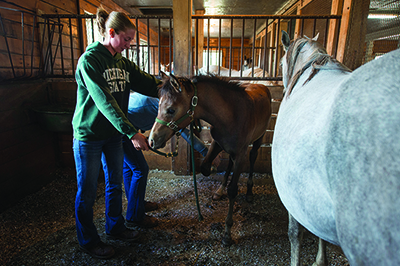 Areas of study include:
Horse farm management
Horse behavior and welfare
Horse nutrition and feeding
Horse exercise physiology
Agricultural communications
Students can also get involved in a variety of clubs and organizations including the Horseman's Association, Equestrian Team, Polo Team, Driving Club, Dressage Club and Rodeo Club.
Additionally, students can participate on the MSU Horse Judging Team, which competes at the Arabian Nationals and either the Quarter Horse Congress or World. Summer show training or dressage training classes also offer additional opportunities for competition.
---
Career Opportunities
Following graduation, students earn a certificate preparing them for the job market. If interested, students can also transfer into Michigan State University to earn a bachelor degree in animal science or another related major.
Graduates find careers in horse industries and operations based on their interests.
Some career paths include:
Horse trainer or instructor
Horse breeder
Show groomer
Boarding facility manager
---
---
The Horse Management certificate program is based in East Lansing on the campus of Michigan State University.
Program requirements:
48 credits
3-4 semesters of classroom instruction
1 semester off-campus internship (primarily during the summer from May to August)
Learn more about the MSU requirements and courses in Horse Management certificate program.
Class sizes are small and students receive individualized instruction in addition to access to Big Ten facilities and experiences. All students will engage in a clerkship experience at the MSU Horse Teaching & Research Center.
Some learning facilities include:
---
Internships
IAT coordinators help students find and secure organizations to mentor them as part of their required certificate program internship. Not only does this provide immediate on-the-job experience, but internships also help with networking and industry connections.
Some internship locations include:
Arabian horse training facility – Wisconsin
Barrel horse farm – Virginia
Breeding, boarding and riding lesson facilities – several Michigan locations
Standardbred racing stable – Michigan
Training and boarding farm – Virginia
Dressage facility – Florida
Therapeutic riding facilities – Michigan
Quarter horse farms – Colorado, Texas
---
Program Coordinator
For more information or to schedule a visit, contact the Horse Management program coordinator.