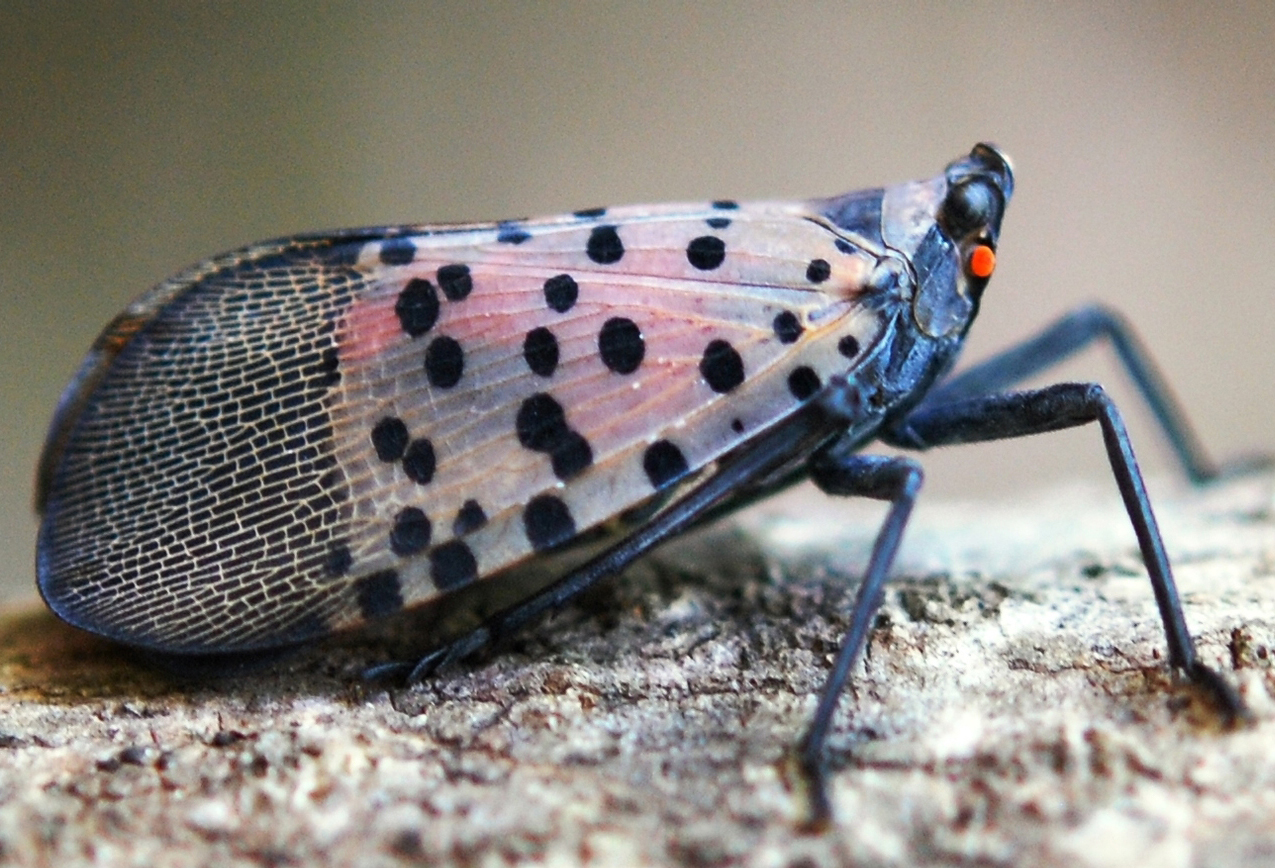 The spotted lanternfly (SLF) is a sap-feeding planthopper, native to China, India and Vietnam, that was discovered in the United States in southeastern Pennsylvania in 2014. As of May 2020, this invasive pest has not yet been detected in Michigan but it will likely be successful once it arrives, given the climate and abundant host plants and its ease of movement. As a result, spotted lanternfly has been placed on the State's pest watch list.
The showy insect could affect Michigan fruit and nursery production, along with many species of trees in landscapes and forests. It prefers to feed and develop on Tree-of-heaven, an invasive tree that has little economic value. Scientists in Pennsylvania, however, have reported that spotted lanternfly can also feed and develop on several other species of plants.
Adults are strong fliers and can disperse a considerable distance. Eggs laid on plants or other materials can be transported into new areas. As of May 2020, spotted lanternfly adults have been found in Pennsylvania, Delaware, Virginia, Maryland, New Jersey and New York.
Early detection of spotted lanternfly will be important for managing this pest. If you suspect you have seen or captured one of these insects, please report it. Send a captured insect or email a good quality photograph to MSU's Pest and Plant Diagnostics lab.
Here are resources for learning more about this pest.
Banner image courtesy of Lawrence Barringer; Pennsylvania Dept. of Agriculture; Bugwood.org
News
Published on February 11, 2020

Anyone that grows or maintains trees, vines or any woody plants should learn about this exotic invasive insect before it appears in Michigan.
Published on October 10, 2019

Two things you can do to help keep the spotted lanternfly out of nurseries and landscapes.
Published on May 7, 2019

As of May 1, 2019, this new invasive pest is not known to be in Michigan. Learn how to identify it and take steps to slow its spread.