4-H Resources for Educators
Teachers: 4-H is for Your Students!
4-H has a variety of curriculum, lesson plans and equipment. Teachers and 4-H club leaders use it for FREE!
Many opportunities to share with your students, too. Contact Kent County MSU Extension 4-H staff for more information.
4-H Children's Activity at the West Michigan Home & Garden Show
A field trip for grades 1 - 5 is an educational morning with experts. Youth will enjoy an engaging presentation performed by MSU Extension Master Gardener volunteers, followed by an educational scavenger hunt throughout the landscapes in place for the West Michigan Home & Garden Show. The youth will spend an hour learning with volunteers, participating in a hands-on activity (planting seeds, seedlings or related activity), and decorating lunch bags for Kids Food Basket with what they have learned on their trip. Surveys conducted at the conclusion of the event in 2014 indicated:
97 percent of youth learned something new.
95 percent of youth agreed that the science activities were fun and interesting, and want to learn more.
School Requirements: School district in Kent County (public or private), provide transportation and requested student data
The 4-H Children's Activity is a partnership between 4-H Youth Development and MSU Extension Master Gardener Volunteers.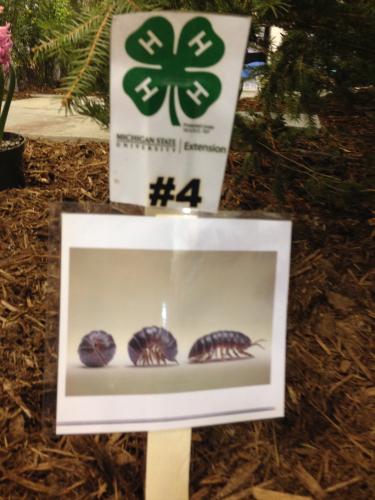 4-H Embryology

Bring a hands-on agricultural experience to your classroom! The 4-H embryology project approaches a variety of hot topics with kid-friendly and hands-on methods. Teachers and school professionals have a broad spectrum of ways to implement egg hatching in classrooms or libraries in their schools to fit required curriculum. The youth participants gain exposure to a segment of agriculture in a manner that forms a bond between the youth and another living thing. Youth also practice life skills, such as responsibility while they care for the eggs during the incubation period and after hatching and planning/organizing, as they plan their incubator schedules for checking temperatures and monitoring moisture. Teachers can leave incubating eggs in the classroom over a weekend's time.
Each kit includes an incubator, egg turner, brooding box, feeder, water dish, heat lamp and curriculum binder. Five kits are available.
School Requirements: $25 refundable deposit, purchase of fertilized eggs (approximately $12 from Townline Poultry), brooding supplies (shavings, chick feed), requested student data
Resources
4-H National Youth Science Experiment
For more than 100 years, 4-H has been at the forefront of teaching young people about science, technology, engineering, and math (STEM). Our hands-on programs empower youth and provide them with opportunities to grown, learn, and become confident kids.

The Kent County MSU Extension program has kits available to share. Each kit is designed for use with up to 10 youth ages 10 and up.
School Requirements: School district in Kent County (public or private), some supplemental materials (tape, etc) and requested student data