Current Exhibitions
Michigan Economic Development Corporation
300 N. Washington Square
Lansing, Michigan 48913
Walter Bailey
aRT and The aRTist Biography Centennial aRTist Walter A. Bailey
Over the last six decades, Walter Bailey's aRT progressed from classical 1960's Afro-Centrism, born of the 20th Century.... to self-evolving Centennial aRTist of 21st Century advanced mediums. Today, his aRT reflect an evolving aRT vision into 22nd Century conceptual design. During 1960's, Walter states "I was of an aspiring land and seascape painter of Neo-Classical Realism." He painted inspiring beauty of New England countrysides and shorelines in hometown Hartford, Connecticut. His evolution continued with works in Black and White (1968 to 73). During Experimental Era (1969 to 83), he explored non-traditional mediums in acrylic polymers panels. Acrylic Panel aRT influenced his direction over the next two decades. As a Black Ethnocentric Expressionist in late 60's to early 80's, Walter search and found his cultural identity. He discovered African Roots as an interest toward African and African American designs. Walter states, "I entered the 80's blending aRT and history studies into creating the 24ft Anthology of African and African American Graphic History Mural. The Anthology panorama was excellent tool teaching and learning Black History-at-a-Glance in the Detroit Public Schools.
After moving to Detroit, Michigan (1989) Walter worked with Detroit Schools ground-breaking African Heritage Cultural Center and Museum 1993 to 2010. His historical aRTworks including The expanding Whole Story Black History supplemental his lifelong historical graphic aRTworks won him the coveted Charles H. Wright Museum of African American Histories Legacy Award in 2009.
Simultaneously, Walter pioneered Reverse-aRT techniques for creating aRT on clear acrylic polymer panels. He called his conceptual medium aCRYLONIC aRTs. aCRYLONICs is still his Signature aRT for over forty years of creating. Today...he is focused on conceptual designs into 2 and 3 dimensional aRTworks including his aRT Ain't Flat No Mo Series and (3)-D Murals. Walters concludes, "After winning Bombay Sapphires Mid West regional aRTisan competition.. I continue to define and shape an advanced aRT vision. Centennial "Change" philosophy strengthens my creative thinking while defining new aRT... well into the next century and beyond".
Contact: Walter A. Bailey... Planet aRT Studios – 313.434.1144 or walter.bailey@gmail.com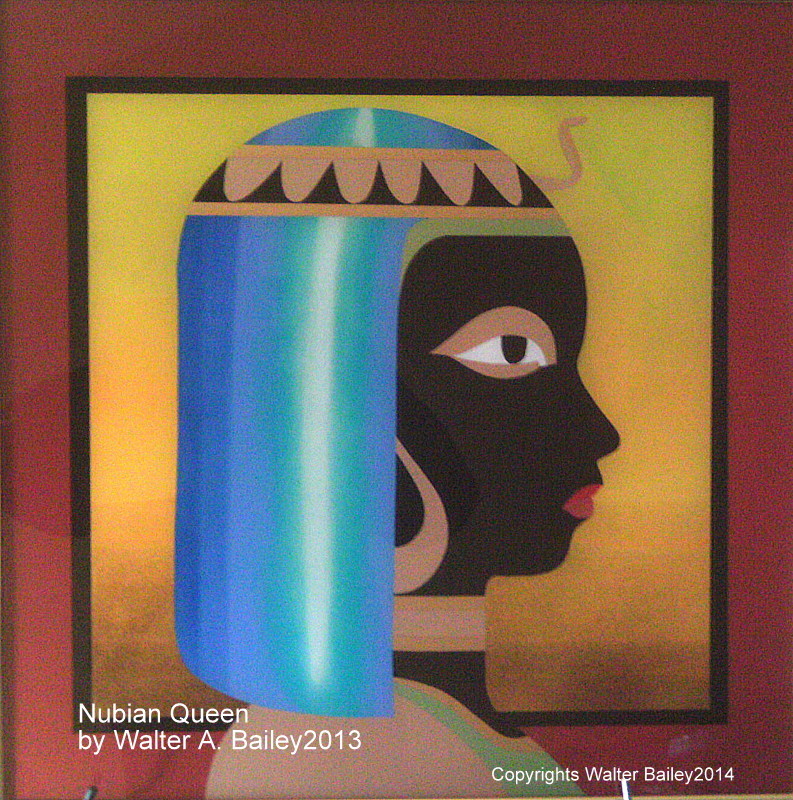 Walter Bailey artwork: Nubian Queen
Adwoa Muwzea
•Adwoa Muwzea is an emerging artist who loves watercolor and collage. She experiments with multi-media images, incorporating various types of papers into one work. Her favorite method of creating relates to her love of paper. She finds different colors, textures and types of paper to cut into various shapes, creating scenes to celebrate children, families, landscapes and still life.
•Adwoa is a graduate of Temple University's film school. Her works are sometimes only 5"X8" since she has an interest and focus on animation. She sometimes works on a small surface to create sand or paper collage animation, using film and video. Adwoa uses animation as design, to tell stories, create interpretations of family and community life, fables and ancient legends from African kingdoms. Some of the films in her collection include: Sonny's Song (drawn and sand animation); and Oya over Time (printed paper collage animation).
•Adwoa is a multi-media artist who experiments with new techniques. She loves the immediacy of watercolor, yet she works with oil pastels to create rich textures and mix strong colors. Adwoa's current works are designs in oil pastel, acrylic media and paper collage. Adwoa sometimes focuses on portraiture too. She wants to explore ways to create portraiture using paper collage.
•Adwoa is an Adjunct Professor of Humanities, at Wayne County Community College District. She uses Inspiration Media Services, her own enterprise, to teach special education students, about painting, drawing, portraiture, collage and animation.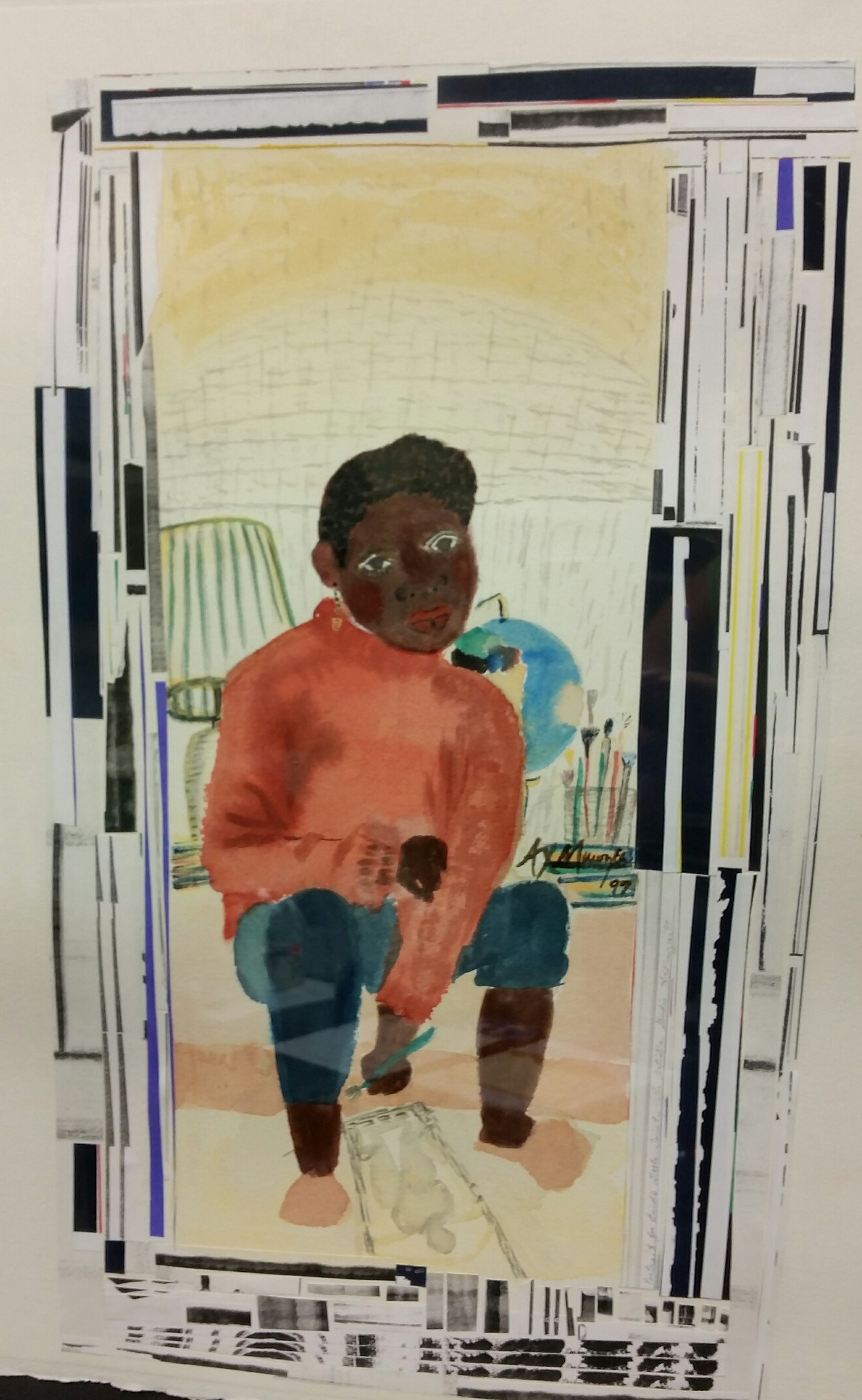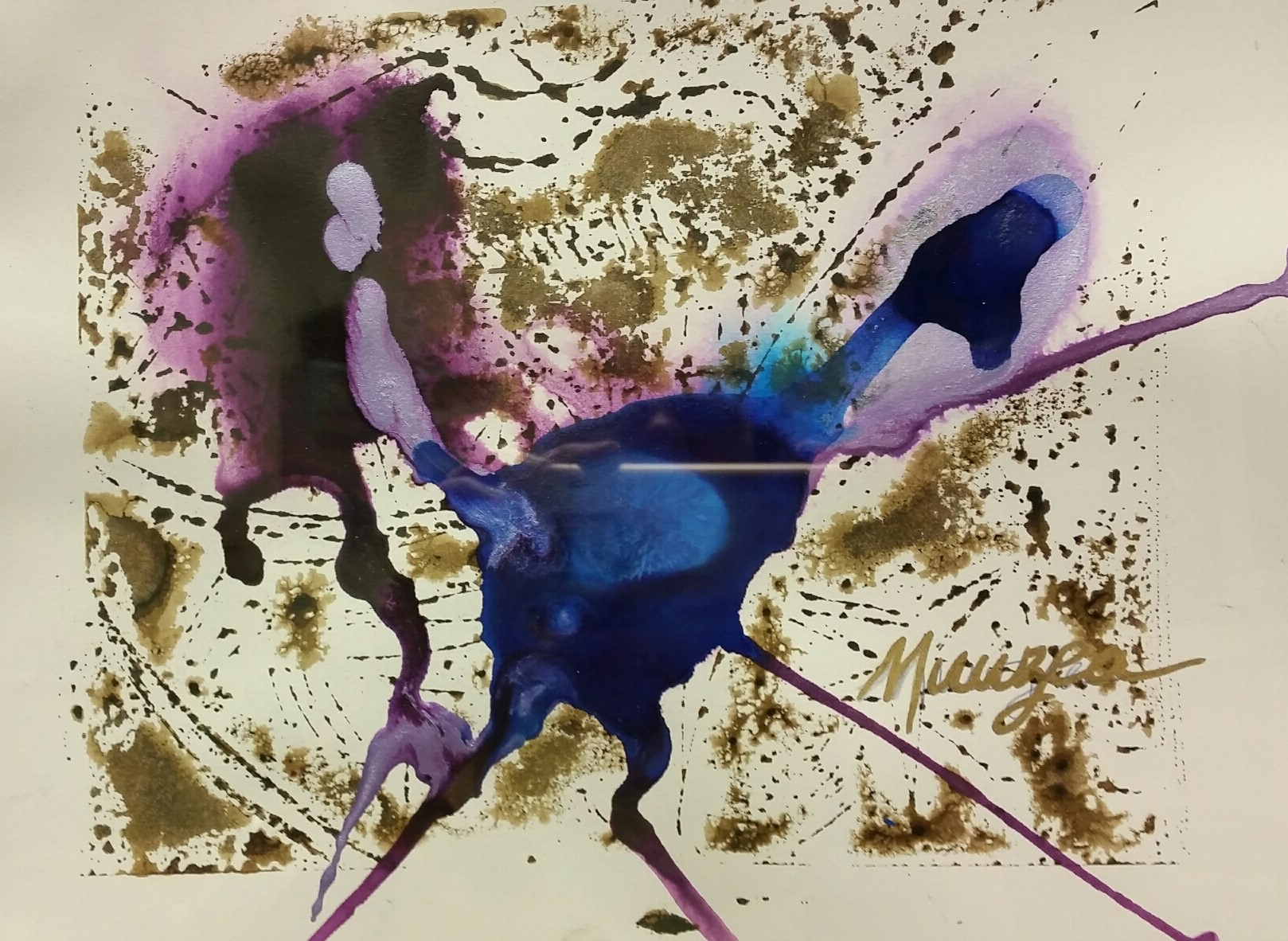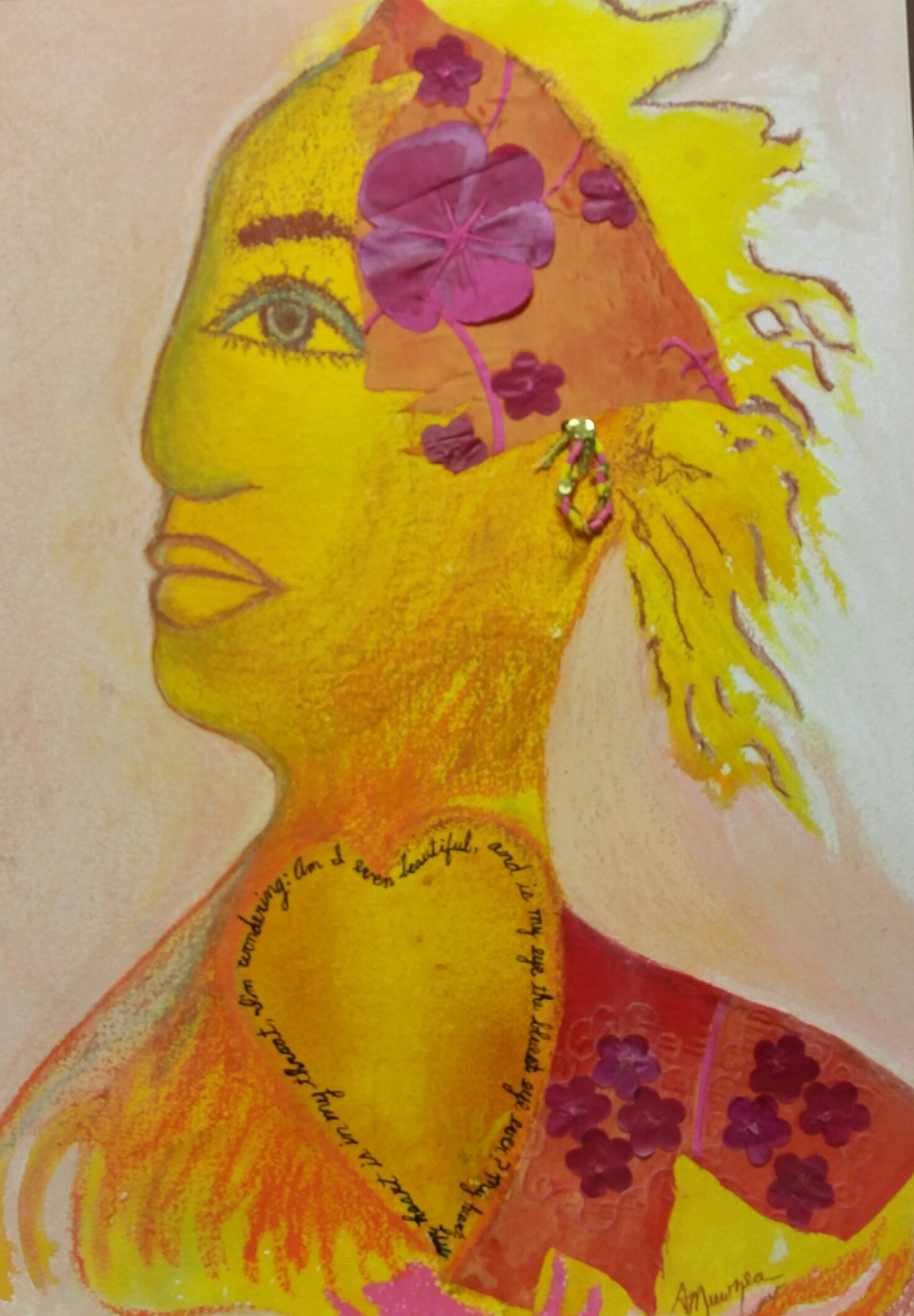 Adwoa Muwzea's artwork: Self Portrait Artist in her Studio, Cluck, and Am I Beautiful
ART BY SEWD Creation is the Key
•SEWD (acronym is initials of the artist's name Sharon E. Williams-Dean) is a 21st century self-taught artist. Her art brings a bright, vibrant versatility to the canvas. There is freedom, love and an adventurous mature that pushes this artist to greater heights and plateaus. Her strokes are sometimes aimless, demonstrating unevenness yet capturing a different conceptualization in many of her pieces especially her work in mixed media.
•SEWD holds a Master's Degree in Business Entrepreneurial Specialties earned at Davenport University and has been a Masters student at Wayne State University within the School of Education Leadership. She is also certified to teach children with learning disabilities. In addition she teaches Business Education and has taught at grade, middle and high school levels since 1999 in charter and Detroit Public Schools. She has worked in the corporate world with Chrysler Corporation and has a work history that dates back over 45 years. She has owned and operated her own business for over 25 years.
•SEWD was introduced to art early on in life by her mother and while attending grade school and has never forgotten the healing and comforting effect that it can bring. She paints, creates jewelry, and enjoys work with clay and tapestry. She has recently taken art classes at Wayne State University. She has worked as a volunteer performing art therapy for cancer patients at St. Johns Hospital in Grosse Pointe, the homeless community at the Coalition on Temporary Shelter (COTS) and has held art lesion for the Better Detroit Youth Movement. She is a member of the National Conference of Artists, the American Business Women's Association (ABWA). Last, she is a member of Hartford Memorial Baptist Church and affiliation with Impact Ministries, Mt. Zion Missionary Baptist Church, Jehovah Missionary Baptist Church, Progressive Missionary Baptist Church, Heavenly Missionary Baptist Church, and many more. She says that her greatest strength is her belief in God.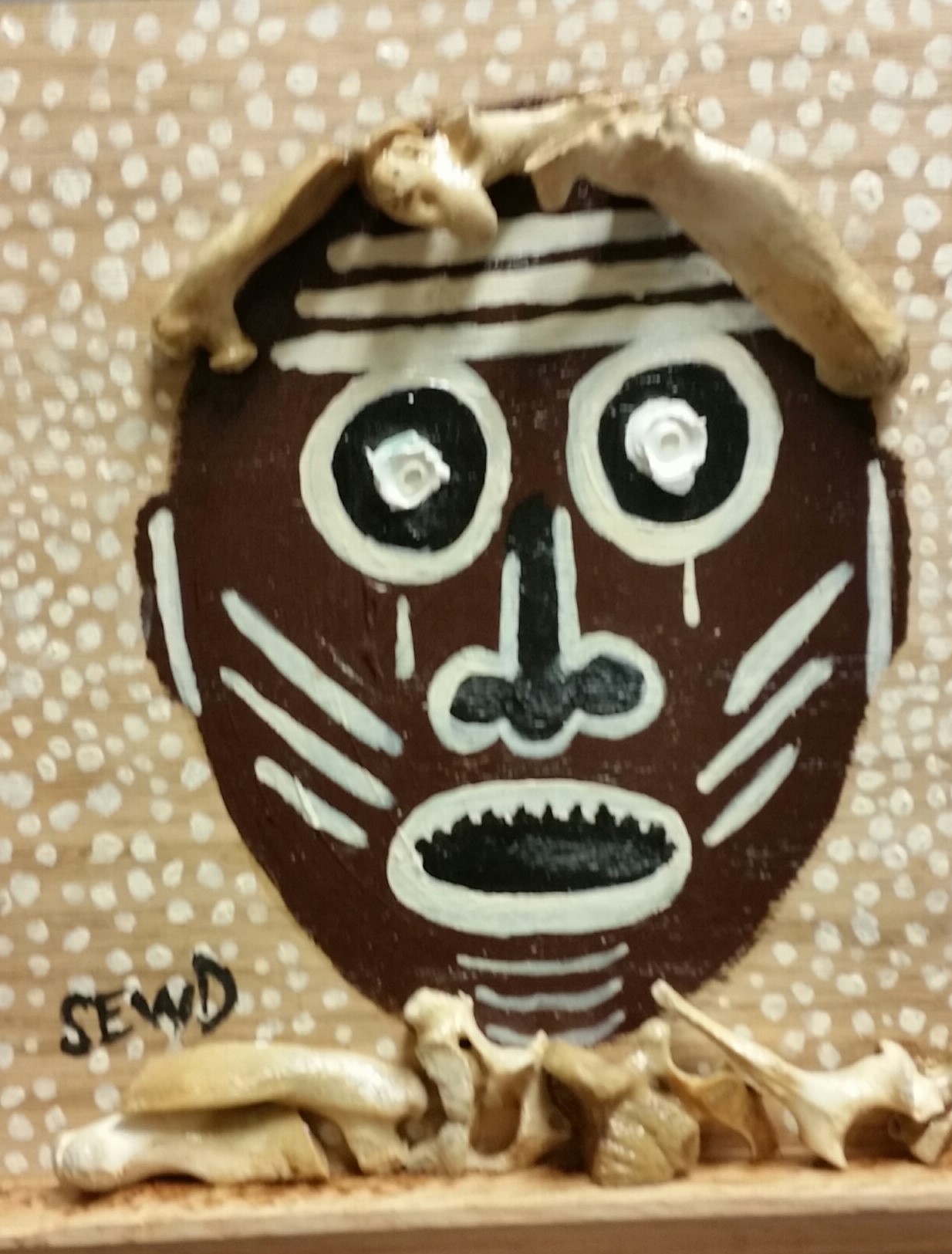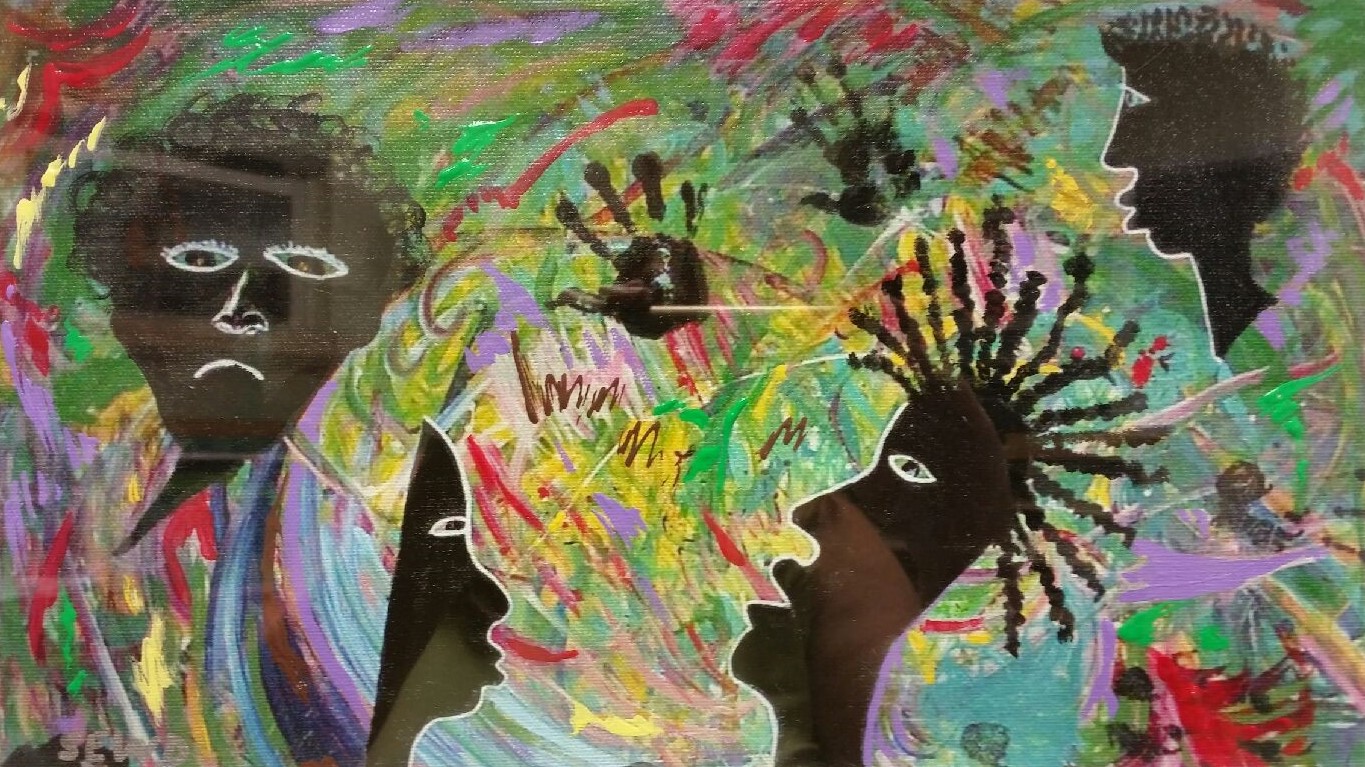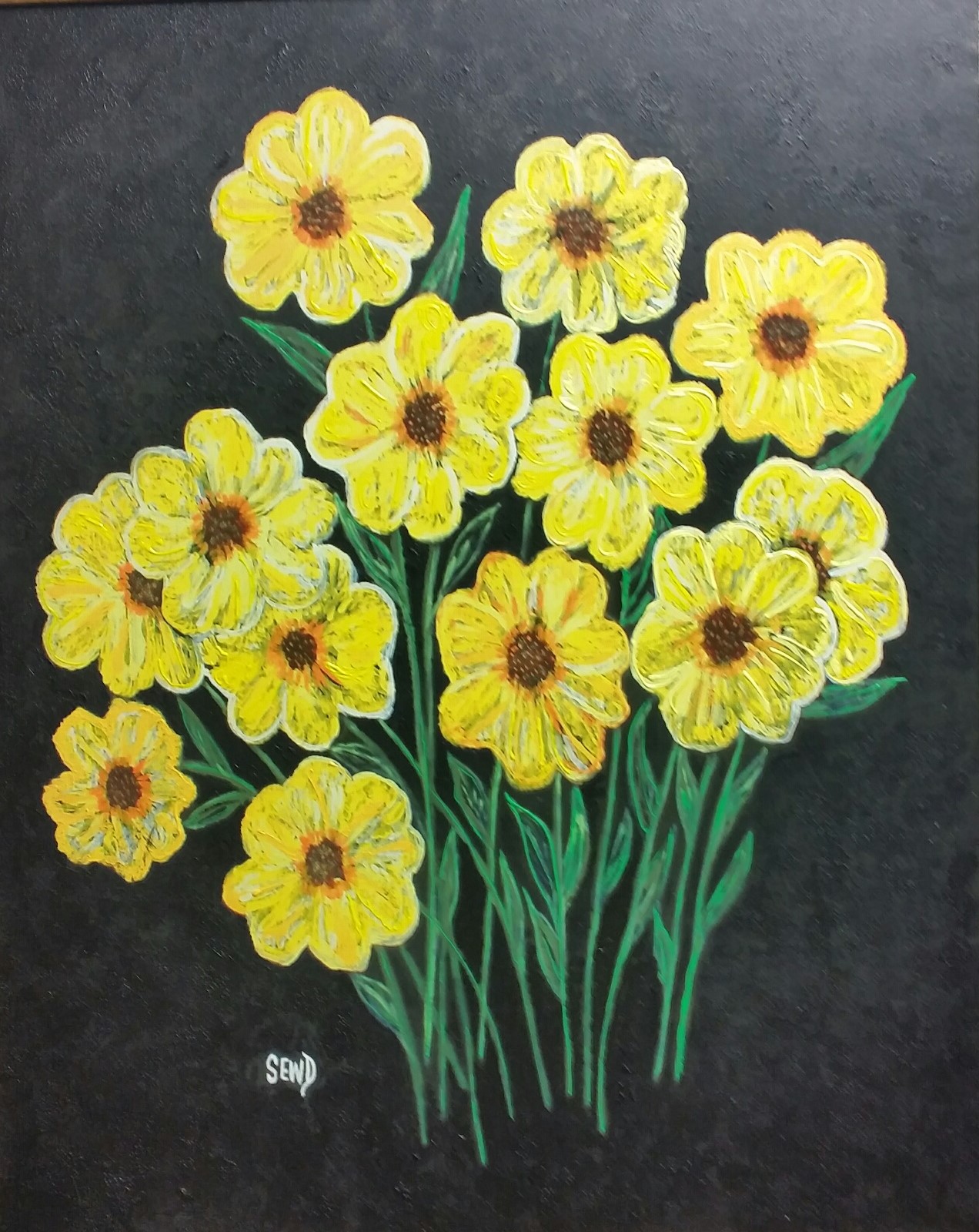 SEWD (Sharon E. Williams-Dean) artwork: Neckbones, Native Voices, and Freshly Cut
Michael Magnotta - Sculptures
Artist Statement: "My journey in the arts began some 35 years ago in photography. Architectural studies broadened my artistic horizons as I learned how the integration of materials in a thoughtful design impacts the environment. It is a seamless transition from architecture to sculpture. Direct metal sculpture using the remnants and cast-­offs of our mass-­produced society to create art is where I find expression today. With inspiration from the masters my work arises from mu experiences and things I love – jazz, space, nature, mankind, and beauty in all its manifestations. The Japanese aesthetic of wabi­sabi, beauty in the imperfect and the natural time-worn patina, resonates in my art.

My sculptures typically begin with a trip to the metal yard. There I gather my palette, such as a painter chooses their paints. From the shapes and textures I cull, a conversation takes place – a visual conversation – that results in the three dimensional work that comprises my oeuvre."
East Lansing Community Music School
4930 S. Hagadorn Rd.,
East Lansing, MI 48823
Charles "Chazz" Miller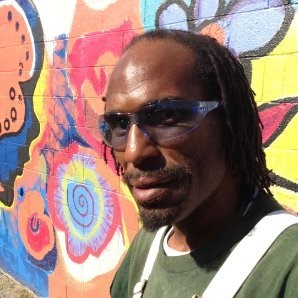 Artist / Teacher / Muralist
b. 1963 Detroit, MI
Mission: Creating positive human experiences, while creating art, "Proving Public Art Workz!"
My artwork takes a satirical view of social, political and cultural issues, deconstructing the psychology of subliminal suggestion, fairy tales, mainstream media, and religion. 50 years of my life's journey and diverse experiences of traveling the world has given me an opportunity to work with all types of people from different communities. This artistic journey has been a work of sheer joy and pain. Public Art Workz!, large scale murals, and sculptures project a visual message that increases the social value and raises the environmental aesthetic that speaks to the soul of the world, touching the individual on the deepest psychic and personal level.
Charles "Chazz" Miller is an internationally-recognized artist. Born on June 14, 1963, raised in Detroit, a graduate of Southwestern High School (1981), Chazz studied Illustration and Advertising at the Columbus College of Art and Design (1981-1986), and has been working as an illustrator/muralist/ teacher since 1988. Chazz taught for the College for Creative Studies Community Arts Partnership, an art education program which serves the Detroit area with after school art programs.
Chazz's paintings have been exhibited in art galleries throughout the world from the Bay Area to Brazil, Los Angeles to London, and Mexico to Manhattan. Chazz's artwork has been featured in magazines, books and even on television. Chazz was profiled in both The Detroit News and The Detroit Free Press (May, 2010). In March, 2010, Chazz was commissioned by United Way to create a hand-painted mural during the Early Childhood Summit which they hosted at Marygrove College. He has also been featured in The Native Detroiter Magazine (2008). His work was part of World Cup Soccer Tour, an exhibition of international sports media (1994).
In addition to working as an artist/teacher, Chazz is the founder of Public Art Workz! (P.A.W.Z.) created to promote art education and community beautification.
For purchase information please contact Amy Wellington of Michigan ArtShare, miartshare@gmail.com or call (517) 414-9175
chazzoriginalz.com
chazzoriginalz/facebook.com
313~633~6051