Vendor Logistics
Becoming a Vendor at Making It In Michigan Webinar - Jan 18, 2023
Questions about being a Trade Show vendor? Read this fact sheet.
Trade Show vendors will want to represent themselves professionally to potential buyers. Click here to learn about creating a sales sheet and a pricing sheet.
Purchase Wi-Fi:
ALL WIFI must be purchased directly from the Lansing Center. Option 1 is for those just wanting to check and send emails. Option 2 is for those needing WIFI for sales devises, streaming videos, etc. Register for WIFI at https://www.lansingcenter.com/services-forms/internet-services.
Purchase Electricity:
For those of you requiring electrical service, you will need to make this request directly from the Lansing Center. Register using this link to access the form: https://www.lansingcenter.com/services-forms/utilities-order-form.
BRING ICE – NO ICE FOR SALE ON SITE
You will need to bring ice if it is needed for your samples or products you are selling. There will be no sales of ice at the Lansing Center.
Special Opportunity for Selected Vendors:
Vendors who are not currently MSU Product Center clients that register by February 28 may be selected for special pre and post event services. These services would be powered by our partnership with Pure Michigan Business Connect (PMBC) and Michigan Department of Agriculture & Rural Development (MDARD).
Vendor Booth Availability: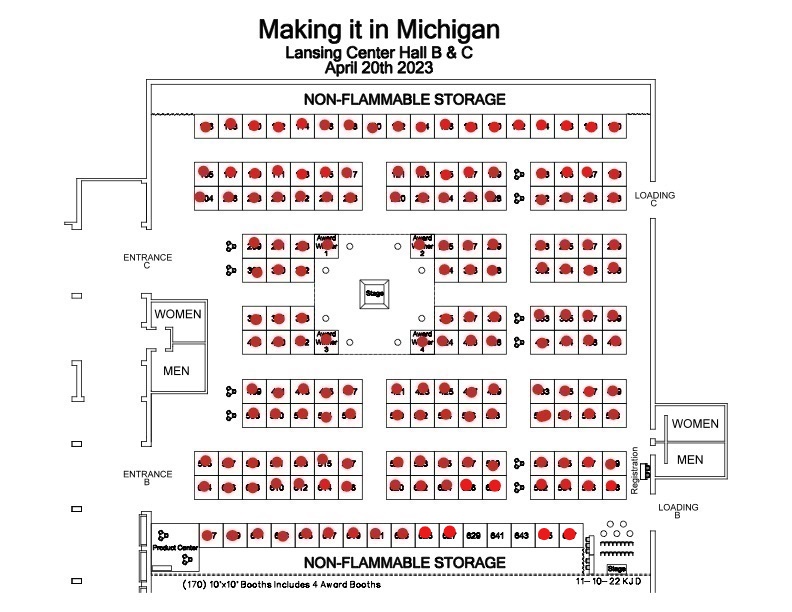 Trade Show booths will be available on a first come first serve basis. Red dots indicate unavailable booths. This map was updated on March 27th. Register for the conference to reserve your spot.