Monroe County 4-H Virtual Auction and Showcase
4-H Virtual Auction and Buyer Resources
Auction Details
Large Livestock

The large livestock online auction will run from

Monday, August 3-Wednesday, August 5, 2020. The auction closes at 10pm on Wednesday!

All large livestock will be sold by the head.
Minimum Bids: current market price-as of 7/31 x minimum weight allowance (NOTE: these are NOT locked in market prices for resale; prices are subject to change; only being used to establish minimum bids)

Beef: current market price (0.90/lb) x 1000lbs = $900.00
Sheep: current market price (1.10/lb) x 95lbs = $105.00
Swine: current market price (0.20/lb) x 220lbs = $44.00

Small Animals

The small animal online auction will run from

Wednesday, August 5-Friday, August 7, 2020. The auction closes at 10pm on Friday!

All small animals will be sold by the pen.
Minimum Bids

Broilers (pen of 3): $100.00
Roaster Chickens (pen of 2): $75.00
Turkeys (pen of 2): $100.00
Ducks (pen of 3): $100.00
Geese (pen of 2): $100.00
Fryer Rabbit (pen of 1): $35.00
Roaster Rabbit (pen of 1): $50.00
Meat Rabbits (pen of 3): $100.00
Website
Monroe County 4-H Virtual Showcase & Auction FairEntry Website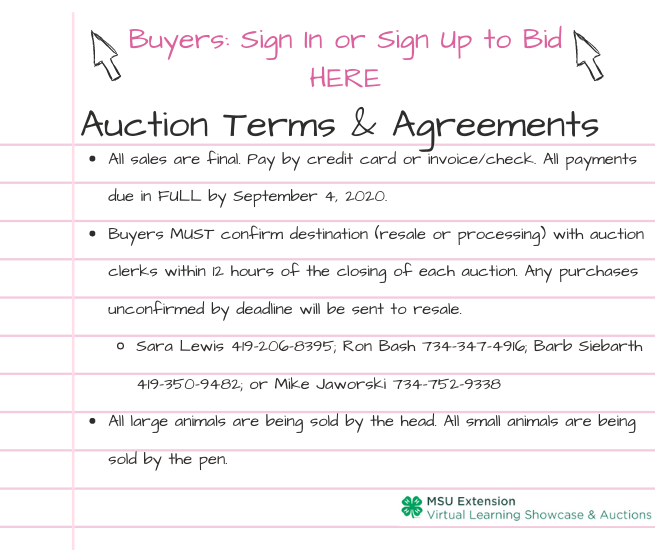 Buyer Information & Details
Buyers will receive a notification in the instance of being outbid by another potential buyer. This email will prompt buyers to re-enter the auction site and increase his/her bid or support another youth.
There is an 'add-on' feature that will allow supporters to make a donation to the youth. This feature does NOT increase a standing bid and does not place a bid on actually securing the animal.
Confirmation emails of purchase(s) will be sent after closing of each auction. Buyers will need to confirm destination (resale or processing) of their purchase with the 4-H auction clerks immediately after closing, within 12 hours, of each auction. Any lots not confirmed by deadline will be sent to resale.
Sara Lewis: 419-206-8395
Ron Bash: 734-347-4916
Barbara Siebarth: 419-350-9482
Mike Jaworski: 734-752-9338
Livestock Transportation

The 4-H Junior Livestock Association will coordinate the transportation of all animals purchased through the auction to Jerome Country Market for processing or to Napoleon Livestock or United Producers for resale.
There is no buyers fee for the transportation.

Destination Choices-if we don't hear from you by 9am on Thursday indicating your choices for destination, auction clerks will begin calling buyers starting at 9am on Thursday, August 6. See further below for phone numbers of available auction clerks.

Resale: Buyers will receive a check directly from the stockyard for market price for animals sent to resale.

United Producers: Market Sheep (no hogs or cattle will go to UPI)
Napoleon Livestock: Beef Cattle and Market Hogs (no lambs will go to Napoleon Livestock)

Processing: Our ONLY option for processing is to Jerome Country Market (517-688-4041). There is no self-haul.

Buyers are responsible for contacting Jerome Country Market to complete cut sheets.

Beef: $65 for the harvest + $0.51/lb hanging weight for cut/wrap and vacuum seal packaging
Swine: $45 for the harvest + $0.51/lb hanging weight for cut/wrap and vacuum seal packaging
Sheep: $89 for everything (harvest, cut, wrap packaging)

Add-On Bidding

If you would like to make a DONATION to the youth in addition to, or in place of, competitively bidding on the purchase of their animal, you can choose to utilize the 'add-on' feature available on each sale lot. This is a great opportunity to support many youth if you are only able to purchase one or two animals, but would like to support several youth exhibitors.
Invoices will be sent with payment expected by September 4, 2020. Buyers will be able to pay by credit card or by check after the sale is finalized and invoices are ready.
Buyers can create their own login 1) anytime prior to the auction using the above link, 2) at the start of the auction (August 3) or 3) contact Sara via email at seitzsa1@msu.edu, and she will be glad to create one for you.
Please be ready to provide:
Buyer Name or Business
Business Contact
Mailing Address
Phone
Email
For additional resources, please feel free to visit the MSU Extension Virtual Learning Showcase & Auctions "Potential Buyers" page.
Resources
The resources below should be used to recruit buyers and advertise our virtual auction. Please also visit the Youth Members page of the MSU Virtual Showcase and Auctions website for tips and best practices on marketing your livestock project, including sample buyer letters and thank you notes.
2020 Monroe County 4-H Virtual Auction Buyer Letter: This document is being distributed via email and mail to previous buyers. Please feel free to use this document to supplement your personalized letters and efforts to recruit buyer support.
Large and Small Stock Buyer Brochure: This brochure should be distributed to friends, family, community members and potential buyers to recruit support and advertise the 2020 Monroe County 4-H Virtual Auction.
2020 Monroe County Fair Premium Catalog 4-H Youth Division
2020 Premium Catalog (PDF): The catalog can also be found on the Monroe County Fair website.
2020 Premium Catalog Addendum (PDF): Please use this document to see the changes and additions to section rules for the 4-H Youth Division. It takes precedent over any other previously distributed versions of the 2020 Premium Catalog.
Monroe County 4-H Virtual Showcase Eliminated Departments/Sections/Classes: Use this document to view the list of departments, sections and/or classes that will NOT be offered.
Cloverbud Department/Sections/Classes: Use this as a guide to view the available categories for exhibition for 4-H Cloverbuds, 5-7 year old members.
Registration Information
Registration opens 10am Wednesday, July 1, 2020. Registration closes 5pm Friday, July 24, 2020!
When you register, you will also be submitting the project itself.

Submission will mainly be uploading still photos of the project, but there are some classes that will ask for a video or potentially a document. See the project area rules below in the "Rules, Guidelines & Expectations" section to learn what you need to submit for classes.
Check out these Tips for Taking Photos and Video!

Once registration opens, you will go to our county's Fair Entry website and use your 4-H online information to login.

Use this link to our FairEntry website to access the registration system when it opens at 10am on Wednesday, July 1, 2020.

In order to submit a video, the video must be uploaded to YouTube and then the YouTube link will be submitted within Fair Entry. For instructions on "How to Create a Video Entry and Submit Through FairEntry", use this link to visit our resource page and scroll all the way to the bottom of the page to access the embedded video. If you

If you have any questions or concerns, or need assistance loading your video for your project submission, please email Sara Lewis (seitzsa1@msu.edu).

Due to our virtual format, not all classes will be offered this year. Please see our Eliminated Class List, which can also be found above, to check what classes you are NOT available.
All 4-H rules apply. Please reference the Premium Catalog, Addendum, and "Rules, Guidelines & Expectations" section directly below for specific submission requirements organized by Department.
In order to participate in the Virtual Showcase, you MUST be an active 4-H member before July 1. You can check membership status in 4-H online.
If you have any questions on your project area that you cannot find in the documents below, please consult the Premium Catalog and/or Addendum or contact Sara Lewis (seitzsa1@msu.edu).
In this video you will see a demonstration of how exhibitors will submit entries through the FairEntry system. The video shows how to find your classes, enter class requirements such as photos and videos, and view comments from judges. Here is a helpsheet document with screenshots to guide you through the project submission process. Additional resources relating exhibitor registration are below.
Tips for Exhibitors Making Online Entries
How to login to FairEntry with your 4HOnline account: https://vimeo.com/265821971.
Recommended browsers include Google Chrome or Mozilla Firefox. Older versions of Internet Explorer may cause unexpected behavior.
Be sure to click the "Submit" button when you have completed your entries. Entries are not final until they have been submitted.
Check your email inbox for a confirmation email with a list of your entries.
Rules, Guidelines & Expectations
Below you will find the individual PDF documents for each department outline requirements and expectations for each department in regards to pictures, videos and/or other supplemental documents needed for project submission during online registration:
Livestock Educational-Department 27
Cavies & Pocket Pets-Department 30
Small Animal Educational-Department 31
4-H Culinary Arts-Department 61
4-H Floriculture-Department 67
4-H Horticulture-Department 68
4-H Educational Projects-Department 76
4-H Communications-Department 77
Additional Resources
MSU Virtual Showcase and Auction Resource Page
Catalog of Previous Email Communications Sent to 4-H membership-Virtual Showcase and Auction Updates