12-year-old youth travels to Japan on exchange
Noella Leff was so brave to follow her dream of living in Japan and learning about their culture.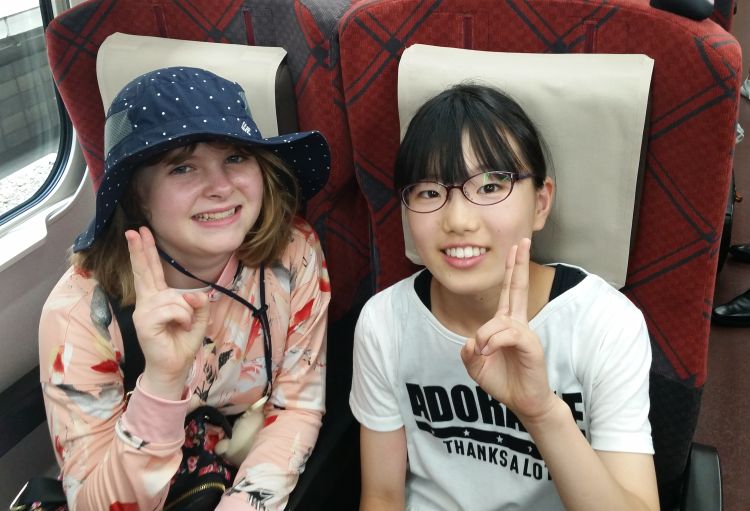 Michigan 4-H and States' 4-H International partner to offer youth the opportunity to travel abroad as young as 12 years old. The youth submits an application, two references and completes a face-to-face interview to determine whether they would be successful on a month-long abroad experience living with a host family. Oakland County's Noella Leff was one of Michigan's successful outbound delegates in 2019. At the young age of 12 years old, she was eager to experience Japan and its people since studying Japanese for two years at Koby Learning Group near her home.
Enjoy reading about Noella's experience in Niigata Prefecture, Japan.
D'Ann (D): What was it like to wait to hear about your host family?
Noella (N): I was very excited! Every day I would check my email to see where I would be placed. I checked my email 10 times a day because I was so excited and so was my family. I was hoping I would be placed someplace other than Tokyo, Kyoto or Osaka because there are so many people who speak English there. I was hoping to be placed in a traditional Japanese community so I could improve my Japanese. When I found out I was placed in Niigata Prefecture, I called all my family members and friends to tell them.
(D): How did you prepare to travel to Japan?
(N): I took Japanese for two years, so I practiced for five hours every day before I left because I wanted to speak with them. I read books and watched movies about Japan. My Japanese teachers taught me many things. She shared different things about Japan with me. I went to a learning group and participated in two classes, we read books, tried different online programs to learn Japanese. I love reading different manga books too.
(D): Who decided you should go on exchange?
(N): It was my idea. Around two years ago, I started a manga class and practiced drawing it and watched different movies. This made me want to go to Japan to learn in person.
(D): How was your flight experience to Japan?
(N): It was my first time flying that I remember, so I thought it was really good. The first flight to Washington was boring because I didn't have headphones, but the sunset was really pretty from the airplane window. The flight to Japan was fun since I watched movies. My stomach felt like I was on a roller coaster at times. The food was really good too.
(D): What did you hope to experience during your exchange?
(N): I thought I would make lots of friends and be really close with my host family. My host sister was really busy so that was different. My host father worked in Tokyo Monday through Thursday as a communication engineer. My host mom worked at a supermarket every day from 12 to 4 p.m.
My family took me to Nagaoka fireworks festival. The fireworks are set to music. We wore yukatas and the fireworks were like shooting stars and some shot up like water. This was expensive to go watch and I was so appreciative of my host father buying the tickets.
(D): How will you use this experience back in your community?
(N): I went to my Japanese class and I shared the information with my teachers, friends and family. In the future, my family wants to go to Japan together and see places I didn't visit. This experience boosted my Japanese. My teachers at Koby Learning Center taught me more formal Japanese but my host family spoke to me in more casual Japanese. One of my teachers at the center has switched to teaching more casual Japanese instead of formal Japanese because of my experience in Japan.
(D): Describe your feeling right now about your trip.
(N): I am very happy that I went there, it was exciting. It was a life changer and I learned more about Japanese culture. It allowed me to make friends. I spent a lot of time with the LABO tutor who lived very close to my host family. I met people I otherwise wouldn't have interacted with before this experience. It is important to learn another language so when I meet someone who speaks Japanese, I can talk to them.
(D): What did you miss most while you were in Japan?
(N): My family because we spend so much time together. My dad works from home and my mom homeschools us. I know they missed me too.
(D): What do you miss from Japan?
(N): I miss my LABO tutor because we spent so much time together and she made me really happy. I also miss my host sister's dog, I was really happy they had a dog. A dog doesn't need you to be able to communicate with them. The fried breaded pork, Tara Katsudon, was my favorite food which I miss. Somen noodle dipped in sauces is really good too..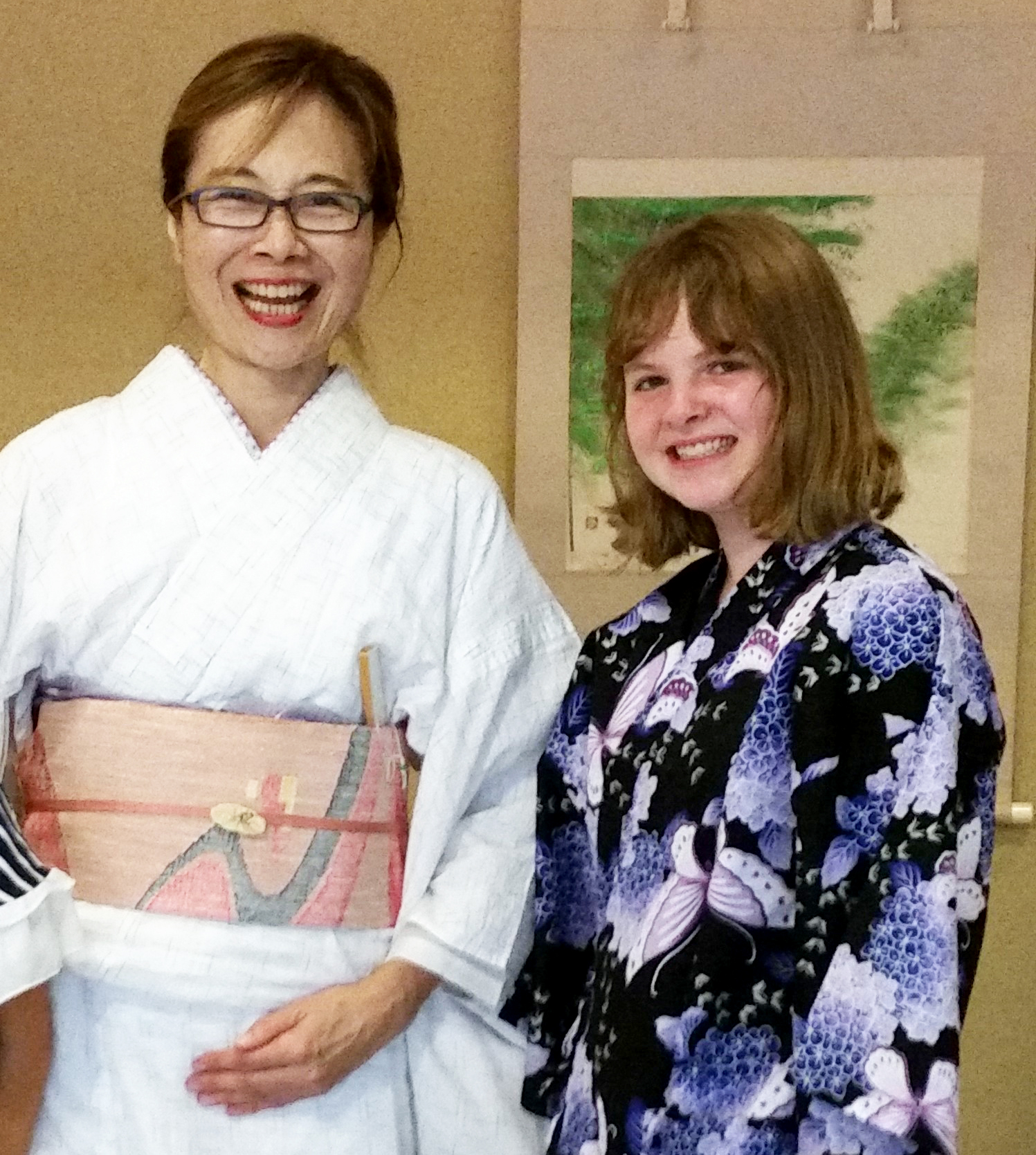 (D): Tell me about LABO camp.
(N): My LABO camp was in Urbandai, so we took a train there. My host sister and her friends went with us so we played cards on the train together. I enjoyed climbing Mount Bandai, it was fun and challenging. I was carrying a heavy backpack and the mountain was steep and muddy, I even fell one time. It took us about two hours to climb up the mountain and another two hours to come back down. At the top it was a beautiful landscape. We stopped to eat lunch, a bento box but I only ate a banana halfway back down the mountain. I did get something stuck in my finger, so an adult had to help pull it out for me.
(D): What was your cultural project you shared with your host family?
(N): I made them pancakes and I brought maple syrup from my aunt and uncles maple syrup farm. My host family liked the pancakes, but they also put cream on top. It was thicker like marshmallow and whip cream mixed. I also made boxed mac and cheese. My host sister really liked it and wants me to send her more.
(D): What are your future plans to travel?
(N): I would like to go back to Japan with my family and I would like to go to Korea since I love k-pop. We also have friends from China, so we would like to go there too.
(D): Anything else you would like to share?
(N): I am a huge BTS k-pop fan, so when I was in Tokyo I heard the band was preforming there. When I was walking around the shrine, I saw my favorite BTS band member. I was so surprised and excited to see him.
(D): Would you recommend this travel experience to other youth?
(N): I would recommend this trip to my sister when she is 12 years old. She is brave too.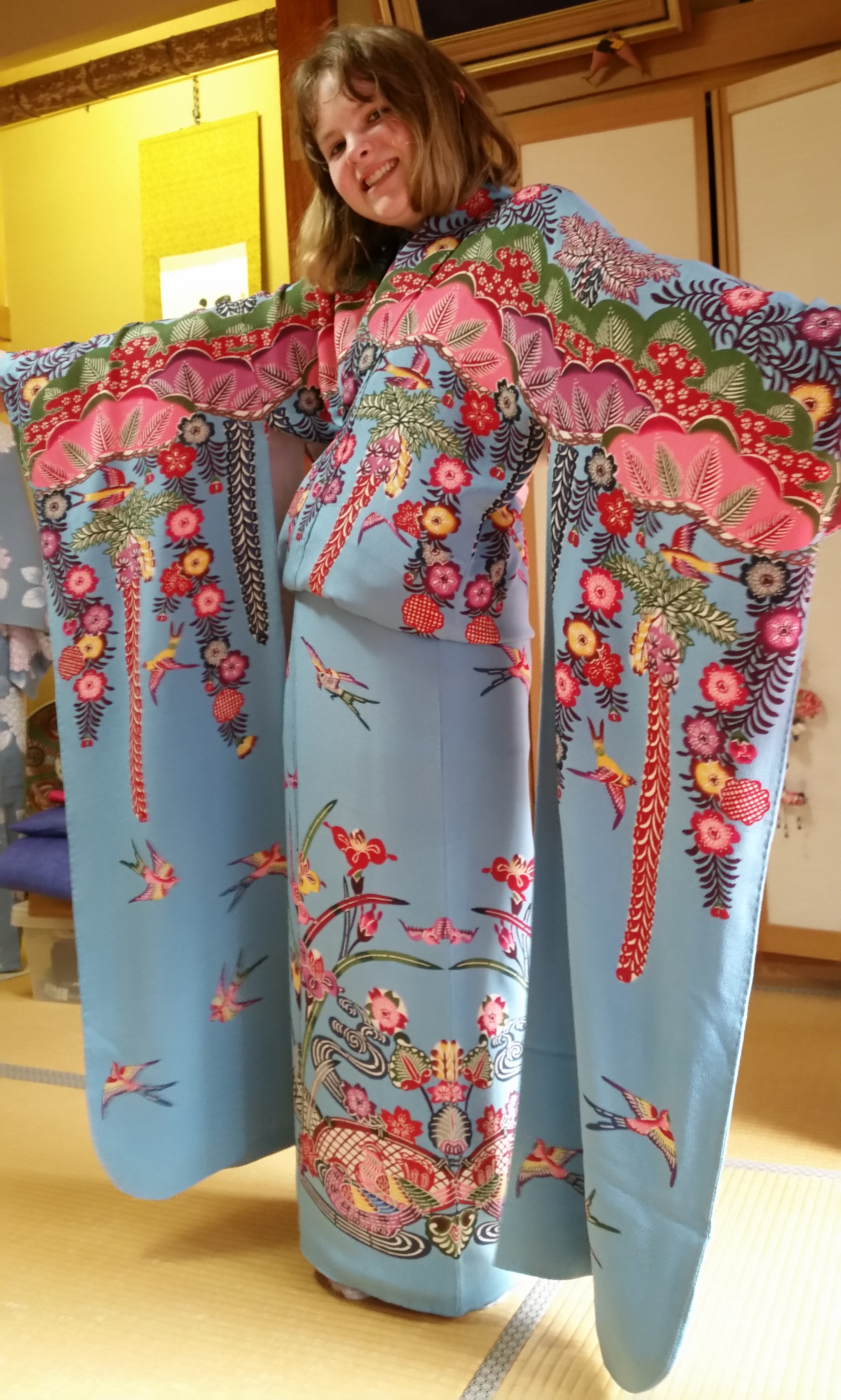 Michigan has been exchanging with Japan for 46 years. We are seeing second generations coming through our program here in Michigan. Is there a youth in your life who would benefit from an abroad travel experience staying with a host family? It's not too early to start planning your child's trip in 2021. Here are a few quotes about travel:
"The world is a book and those who do not travel read only a page." – Saint Augustine
"The real voyage of discovery consists not in seeking new landscapes, but in having new eyes." – Marcel Proust
"Great things never came from comfort zones." – Anonymous
4-H grows brave youth travelers. If you would like to learn more, visit the Michigan 4-H International Exchange Program website. To learn more about hosting an international exchange student, contact D'Ann Rohrer at drohrer@msu.edu or 231-845-3361.
To learn about the positive impact of Michigan 4-H youth leadership, citizenship and service and global and cultural education programs read our 2017 Impact Report: "Developing Civically Engaged Leaders." Additional impact reports, highlighting even more ways Michigan State University Extension and Michigan 4-H have positively impacted individuals and communities in 2016 can be downloaded from the MSU Extension website.